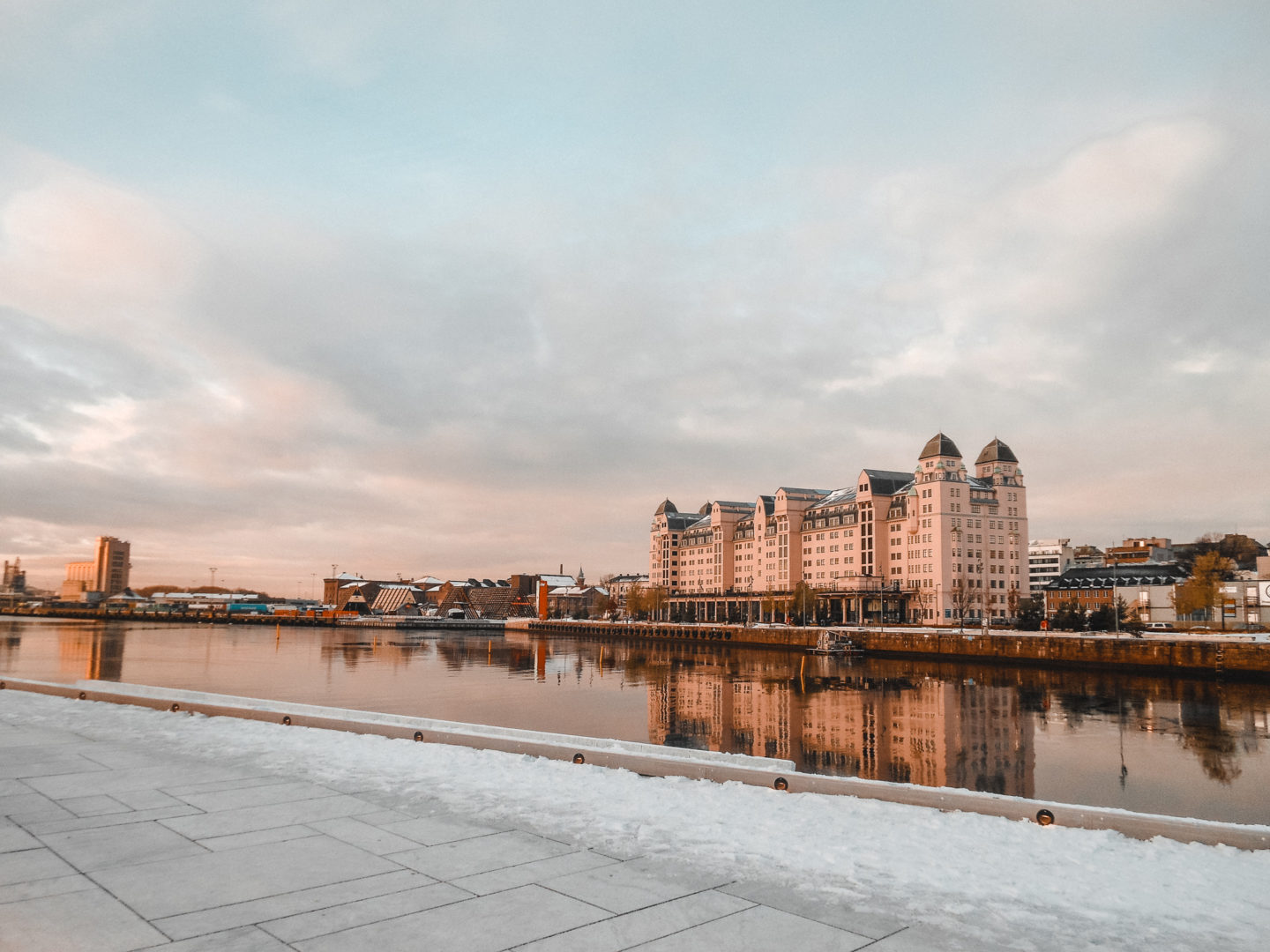 The city of Oslo previously known as Christiania may be the lesser known of the capitals of Scandinavia, but this beautiful and charming city is a MUST visit and represents the epitome of Scandinavia. Norway is notorious for its expensive prices, but that shouldn't keep you from going, it is still possible to see the capital on a budget.
How to get here:
Fly into Gardermoen with Norwegian.
How to get from the airport into the center of Oslo:
From Gardermoen Airport you can take two different trains into Oslo, be sure to pick the right one to save money. There is Flytoget (The airport train) that goes from Gardermoen Airport to Oslo Sentralstasjon (Oslo S) that will set you back 180 NOK, but if you take the public train NSB, you'll only have to pay 93 NOK for the same trip. That almost half price!
Where to stay:
I spent two nights at this hostel that also has a hotel department next door if hostels are not your thing. The staff is very nice and helpful, but it's nothing fancy or anything, it is just a bed. The dorms all have a fridge and a small kitchen, so you can cook for yourself if you want to save money. Great if you're traveling alone and want to meet other travelers or you're on a budget.
If you're traveling as a family, you may want to have your own place. You can rent an apartment for your stay in the nice area of Frogner with Frogner House Apartments. All the apartments are nicely decorated and have a fully equipped kitchen so you can cook your own meals.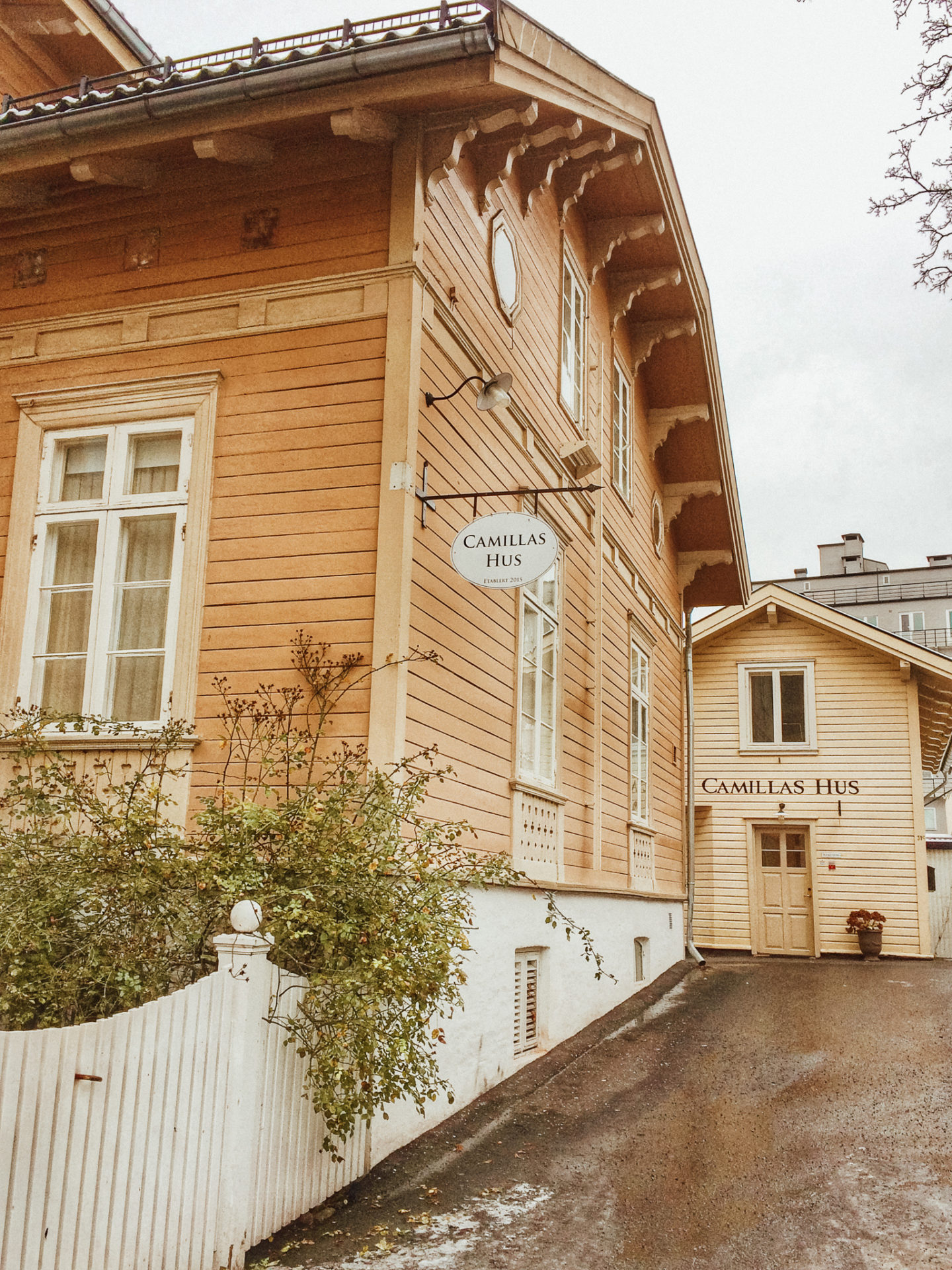 If you want to splurge and treat yourself with a nice stay, way not try Camillas Hus (Camilla's House) located right behind the Royal Palace. The rooms are beautiful and cozy decorated and give you a feeling of staying in a pretty home rather than at a hotel. The hotel is called Camillas Hus because one of the first tenants was the Norwegian author and women's rights activist, Camilla Collett.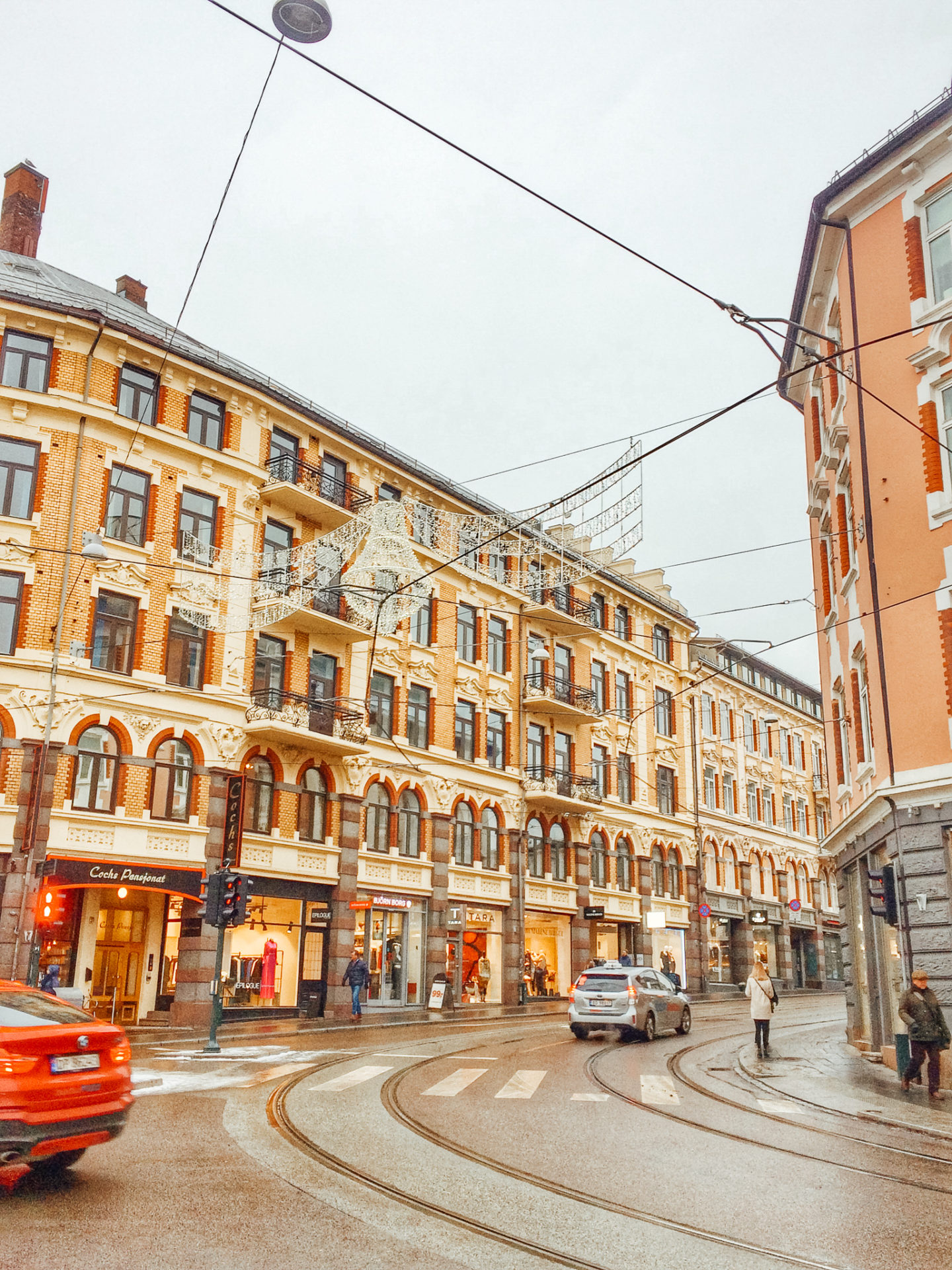 What to see
Day 1:
Start the day but buying an Oslo Pass that will get you free transportation on buses and trams and get you into the many museums for free.
Next, make your way to the area of Bygdøy where some of the most interesting museums are. If you're interested in traveling and explorers, make sure to visit the Kon-Tiki Museum and the Fram Museum.
Learn about the travels of the Norwegian explorer, Thor Heyerdahl, who became world-famous when he crossed the Pacific Ocean on a wooden raft called Kon-Tiki. Heyerdahl's thesis was that South Americans had sailed from South America to the islands of the South Pacific. And to prove it, he wanted to do the same. Read about his adventures in his book "The Kon-Tiki Expedition" from 1948.
Learn about the world-famous polar explorers, Fridtjof Nansen, and Roald Amundsen, and see their ships Fram and Gjøa. Learn about the native people of the Arctic, climb onboard the two ships that have been to the North Pole, and learn about the struggles and hardships of polar expeditions. A very interesting and well-displayed museum.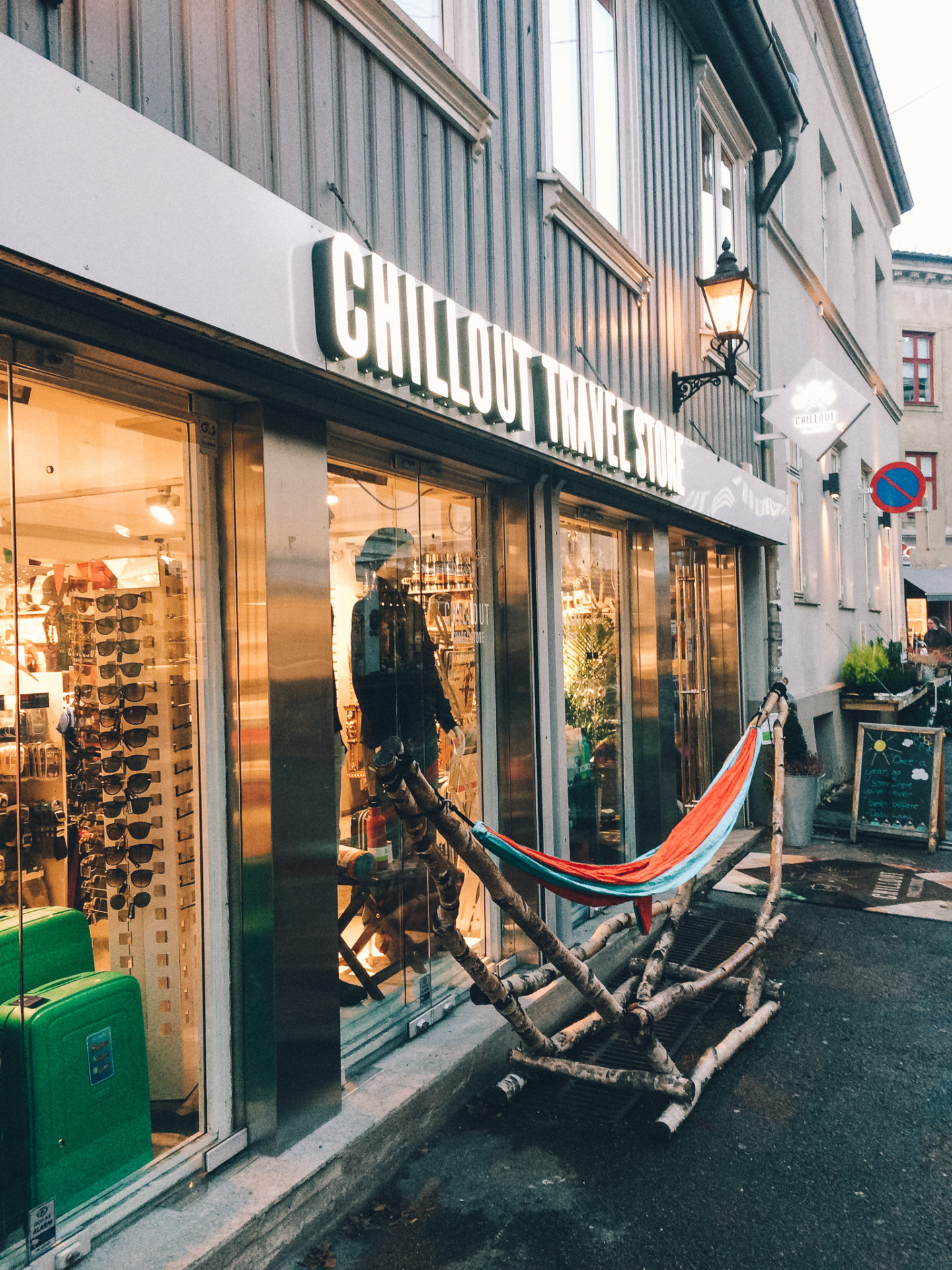 Make your way back into the center of Oslo and get to the hipster area of Grünerløkka and stop for a late lunch.
Walk to the nearby cultural institution of Blå and watch the colorful and creative buildings. From there, walk to the place of Olaf Ryes and explore the surrounding streets of Thorvald Meyersgate and Markveien for great shopping and cozy coffee bars. Check out the interior shop Granit, the vintage shop Robot and the cozy travel shop Chill Out Travel Store and finish with coffee at Kaffebrenneriet
After shopping, you might wanna get some dinner. Either, eat at the delicious pizza restaurant Villa Paradiso, or make your way to the nearby Oslo Mathallen. Here you can taste amazing Fiskekaker (fish buns) and get a skolebolle for dessert, a pastry, which is quite similar to Danish pastry.
Visit Grünerløkka Bryghus on Thorvald Meyersgate for some local beer before heading home.
Dag 2: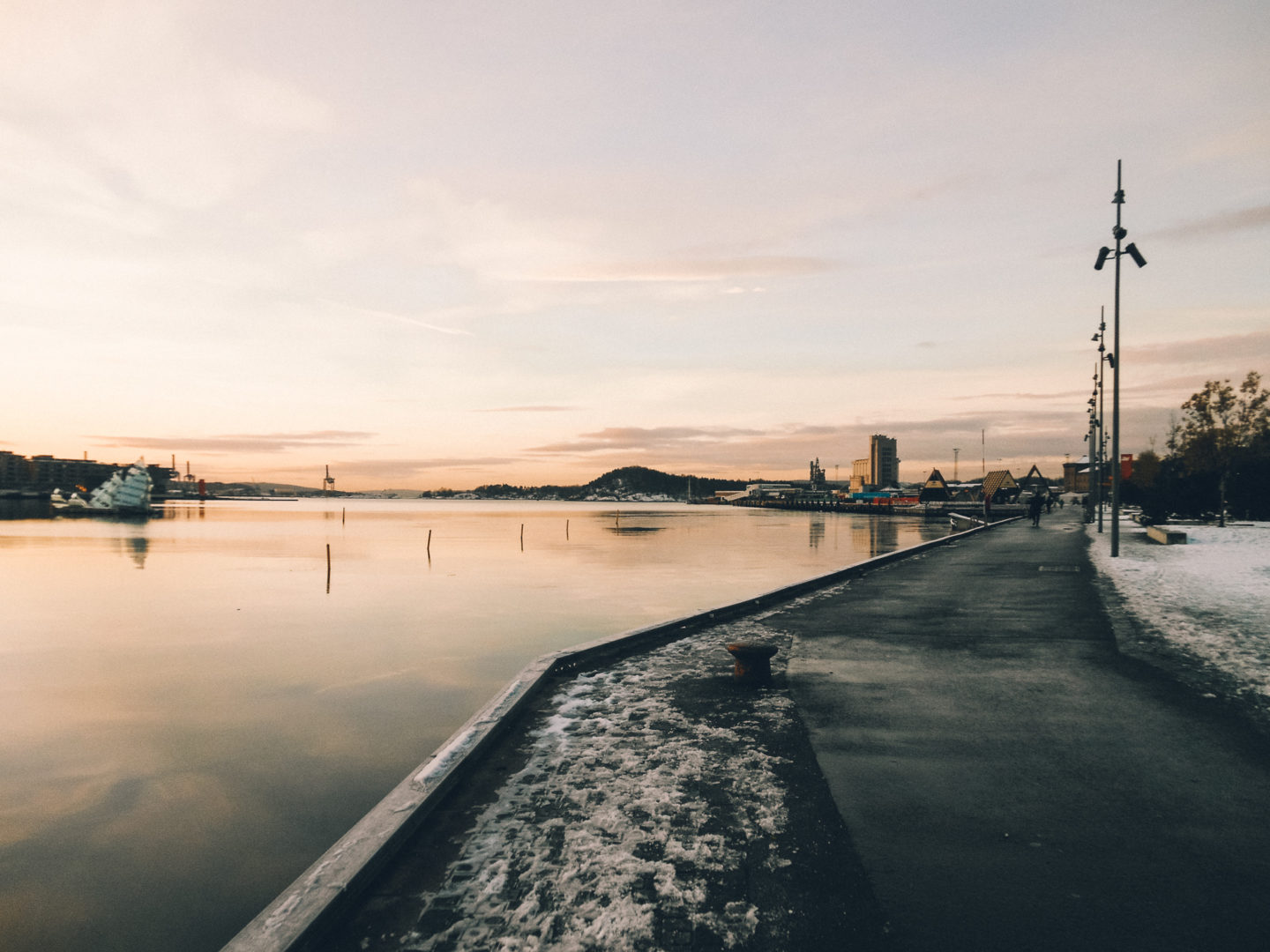 Get your morning coffee to-go and start the day by visiting The Opera House at the harbor front. The architectural pearl is the perfect photo spot, and you can actually walk on the roof of the opera house. After taking awesome pictures, follow the path of Havnepromenaden along the harbor front.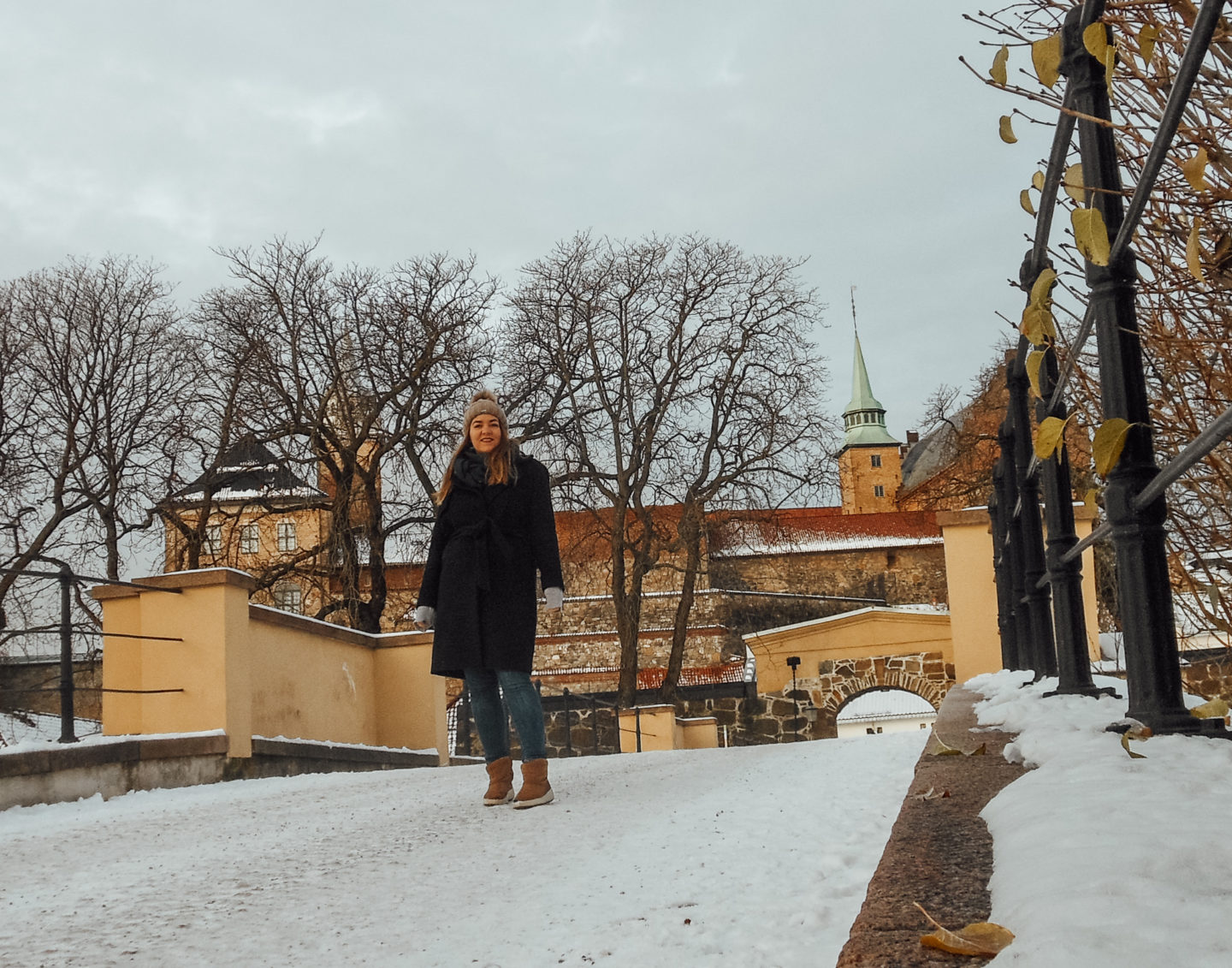 Walk to Akershus Fortress for more awesome pictures. The entrance to the fort is free, but you must pay to see some of the inside areas of Akershus Castle.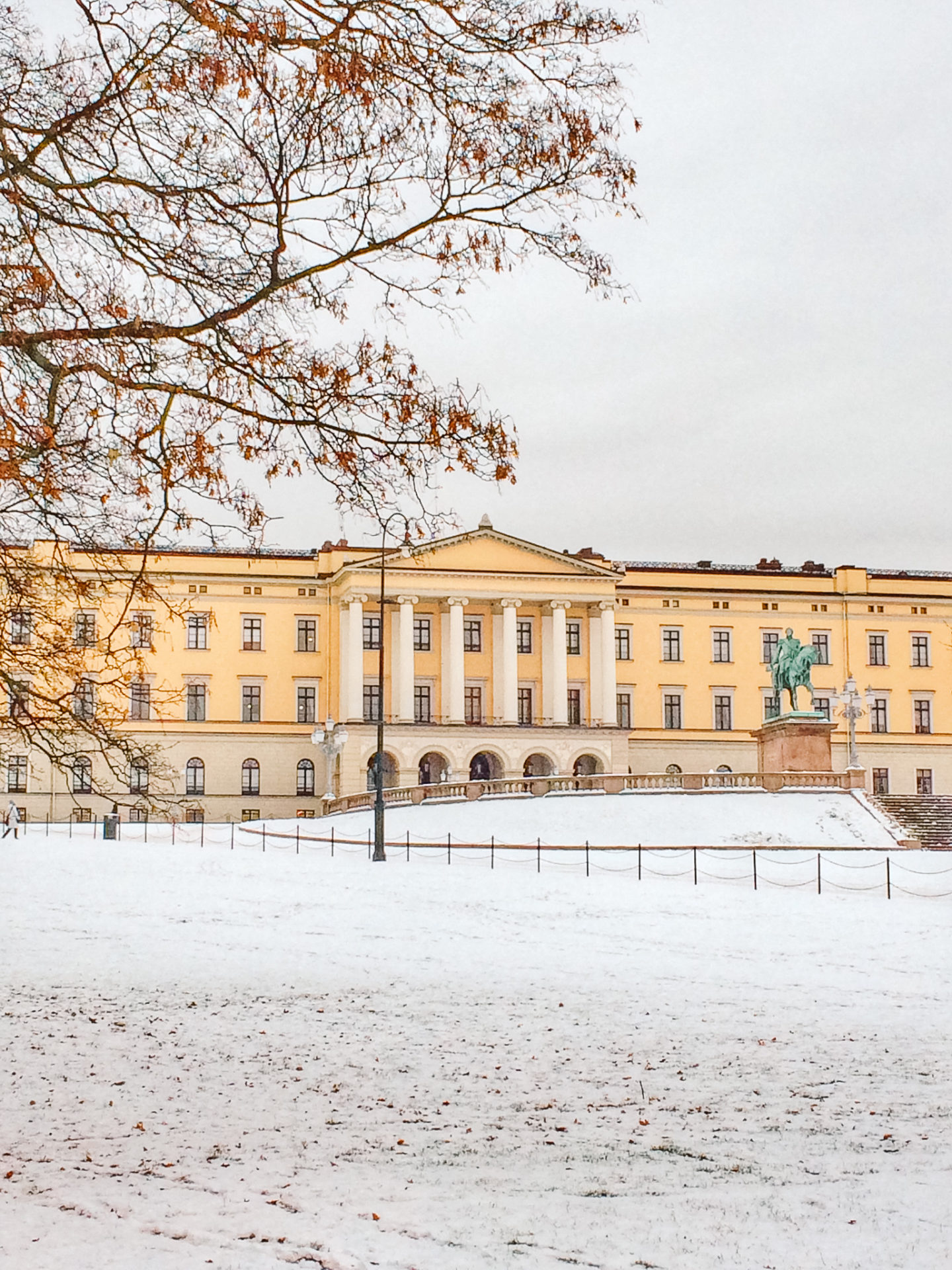 Make your way to The National Theater either by walking or take a bus or a tram. Grab something to eat from United Bakery at the square and head to the nearby Slottsparken next to the castle and sit and people-watch while enjoying your lunch.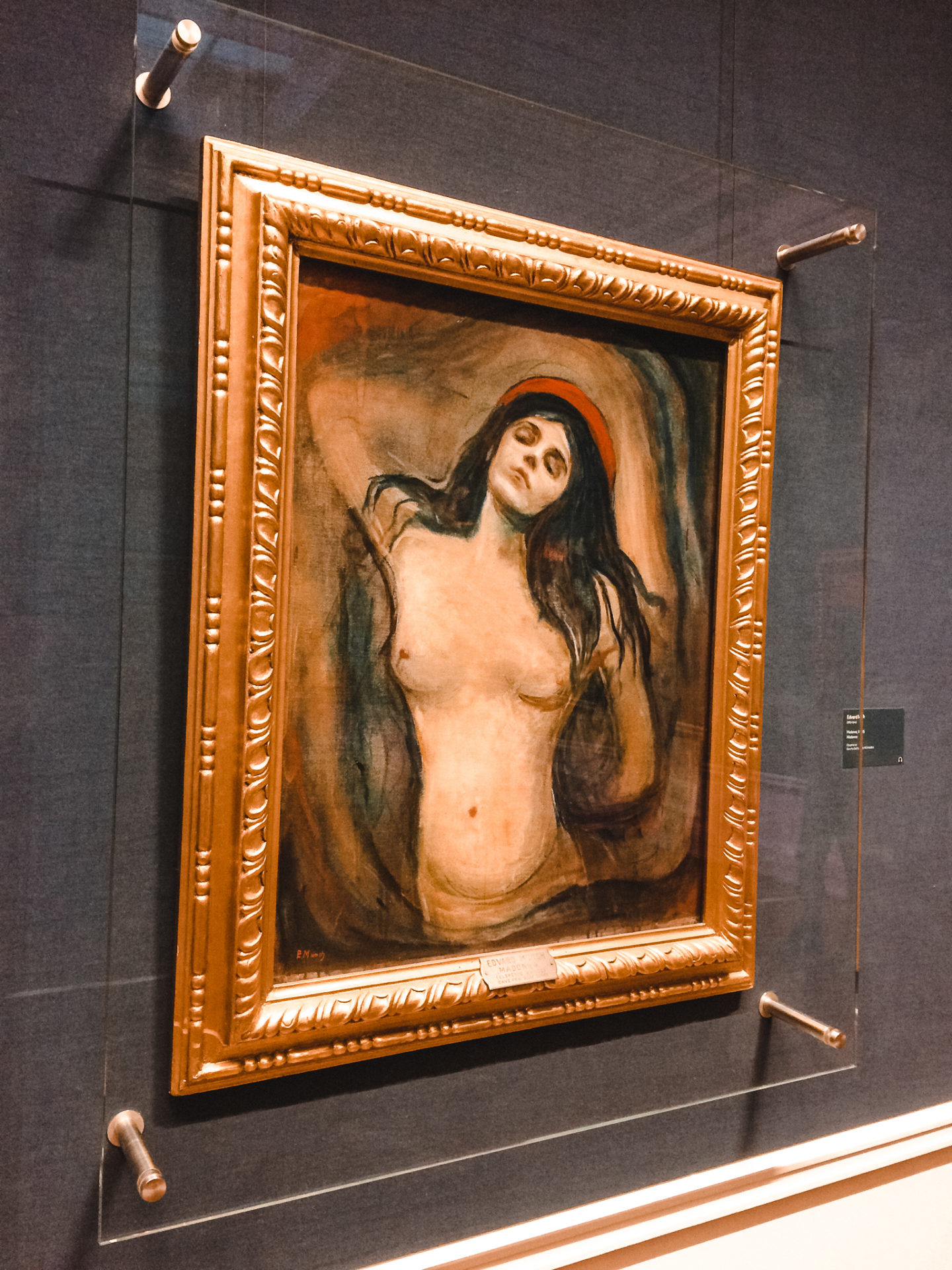 Then head to The National Gallery where you can see the world-famous painting 'The Scream' by Edvard Munch and artwork by other Norwegian and international painters. Every Thursday there is free entrance to the museum. Also, check out the awesome museum shop. Oslo has a museum dedicated only to Munch's art but the most famous pieces of his work you'll find at the National Gallery.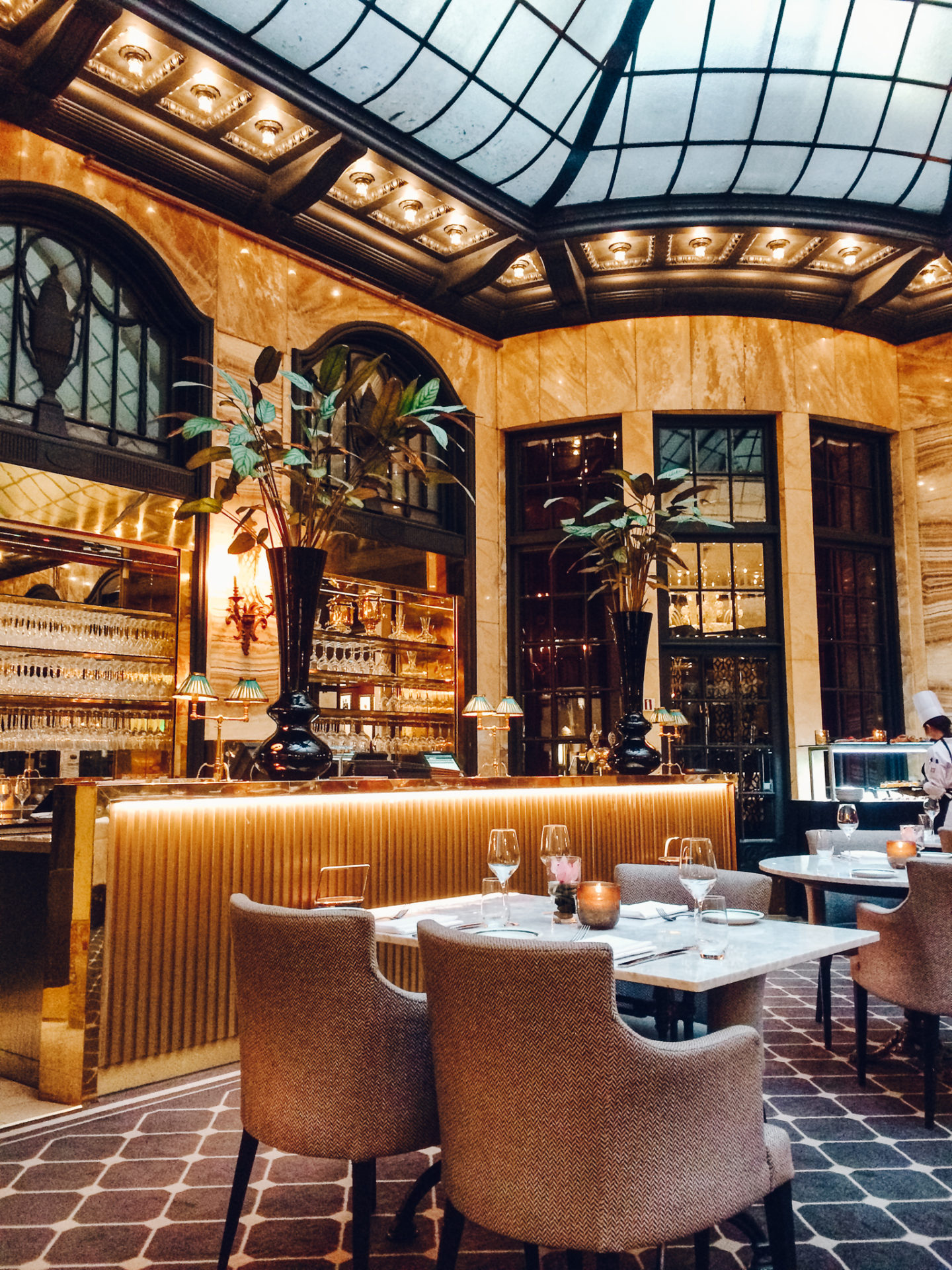 Go back to the square of the National Theatre for a coffee break at the Grand Hotel. This stunning luxury hotel is known for hosting the annual Nobel Peace Prize banquet every year. Even if you can't afford to stay here, you can probably still afford a cup of coffee or tea. I got a pot of tea for 54 NOK.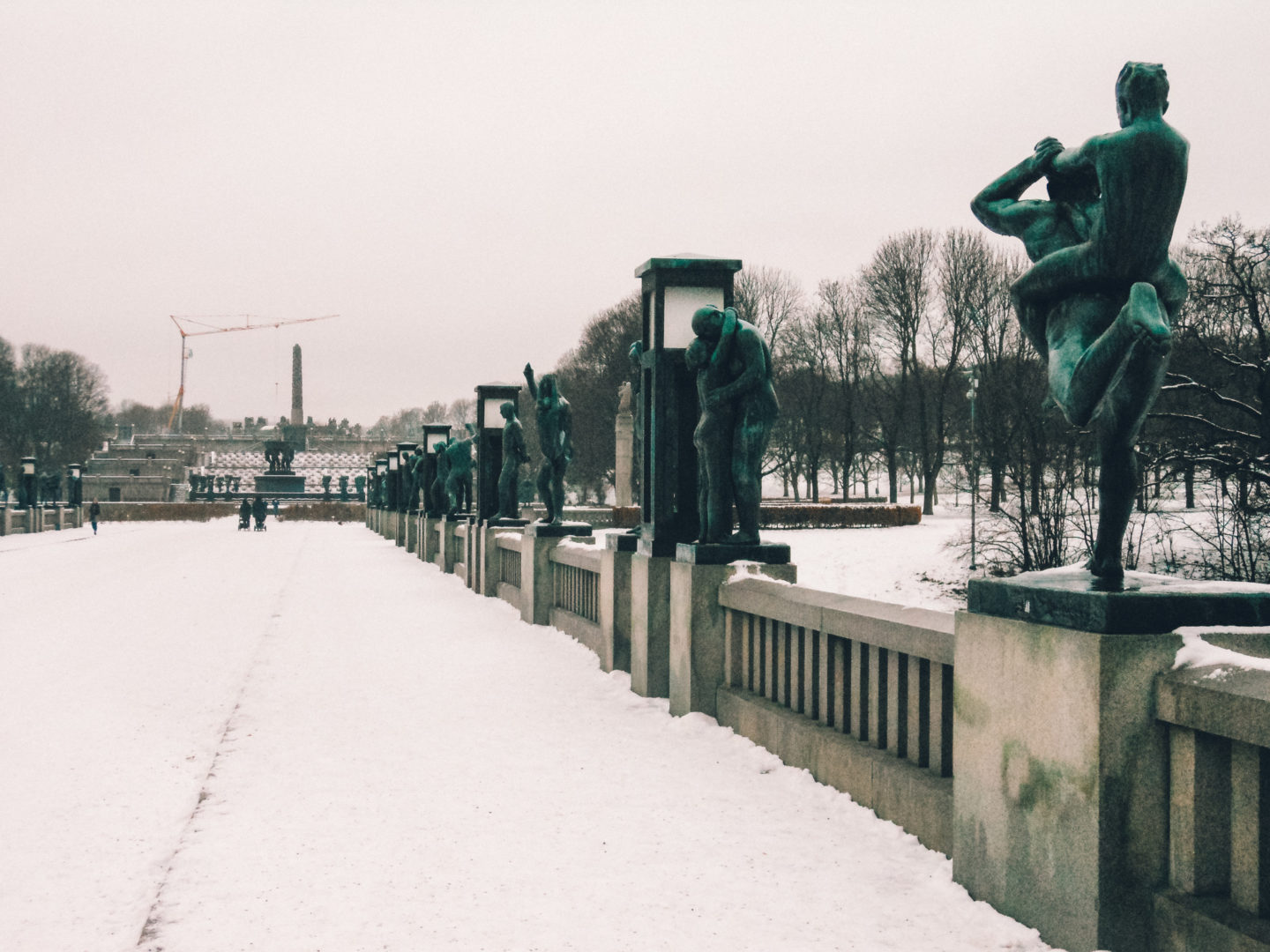 Head to Vigeland Sculpture Park on foot and stroll around the nice park. You'll find over 200 sculptures in different materials within the park by the Norwegian sculptor Gustav Vigeland.
Take the tram or bus to Østbanehallen near the Oslo Sentralstajon for dinner or maybe some shopping as well. Try a burger at Opland Burger & Steak or Italian food at Olivia.
---
Danish Recap
Det er ikke meget, de fleste danskere kender til vores nabolands hovedstad, Oslo. Det er faktisk ikke mere end omkring 200 år siden, at Oslo var på danske hænder, hvor byen dengang havde navnet Christiania efter Christian d. 4. Oslo er en smuk og charmerende hovedstad, der bestemt er et besøg værd, og selvom Norge er berygtet for sine dyre priser, så er det stadig muligt at se Oslo på budget.
Kom hertil:
Man kan flyve med Norwegian direkte til Oslo Lufthavn (Gardermoen) fra både København, Billund og Aalborg.
Kom fra Oslo Lufthavn til Oslo Centrum:
Fra Oslo Lufthavn kan du tage to forskellige typer tog ind til Oslo; Flytoget og NSB-togene (den norske version af DSB). Der er imidlertid stor prisforskel på de tog toge: Flytoget koster 180 NOK, mens NSB's togene koster 93 NOK ind til Oslo S (Oslo Sentralstasjon). Det er altså næsten halvdelen, man sparer ved at tage NSB i stedet for Flytorget! Du kan købe billet til toget i automater i lufthavnen.
Bo her:
Jeg tilbragte to nætter på dette hostel, der også har en hoteldel i bygningen ved siden af, hvis du ikke er meget for vandrehjem. Personalet er søde og hjælpsomme, men du skal ikke forvente noget fancy eller ekstraordinært. Det er virkelig bare en seng, du får, men alle sovesale har et lille tekøkken og en lille fryser, så du selv kan lave mad for at spare penge. Egner sig godt til dem, der rejser alene og gerne vil møde andre rejsende eller, hvis du rejser på et stramt budget.
Hvis I rejser som familie eller par og gerne vil have jeres eget sted, så kan I leje en lejlighed via Frogner House Apartments. Alle lejlighederne ligger i det hyggelige område Frogner (udtales Frångner), og er smukt indrettet med fuldt udstyrede køkkener, så du kan lave dine egen mad.
Hvis du har lyst til at forkæle dig selv med et hotelophold udover det sædvanlige, så skal du prøve at bo på Camilla Hus, der ligger lige bag Kongeslottet. Alle rummene er smukt og hyggeligt indrettet, og man får mere fornemmelsen af at være gæst hos en lokal (og temmelig velhavende) familie end at bo på hotel. Hotellet hedder Camillas Hus, da en af husets første lejere var den norske forfatter og kvinderettighedsforkæmper Camilla Collett.
Det skal du se:
Dag 1:
Begynd dagen med at købe et Oslo Pass, der er en form for turistpas, der giver dig gratis adgang til de vigtigste af byens museer og fri transport med busser og sporvogne. Der kan nemlig være mange penge at spare. Jeg anbefaler derfor, at du lægger de fleste af dine museumsbesøg og besøg til ting, der ligger i stor transport afstand, på én dag eller et par dage, hvis du har mere end 48 timer.
Tag bus nr. 30 til området Bygdøy, hvor nogle af de mest interessante museer ligger. Hvis du er interesseret i rejser og opdagelsesrejsende, så besøg museerne Kon-Tiki Museet og Fram Museet.
Lær om den norske opdagelsesrejsende Thor Heyerdahls eventyr. Han blev verdenskendt, da han krydsede Stillehavet på tømmerflåden Kon-Tiki. Heyerdahls tese var, at indianere fra Sydamerika havde sejlet til stillehavsøerne, da han havde lagt mærke til kulturelle fællestræk imellem Sydamerika og stillehavsøen Fatu Hiva. For at bevise dette gjorde han det samme. Læs om hans eventyrlige rejse i bogen "Kon-Tiki ekspeditionen" fra 1948.
Lær om de verdensrømte polarforskere Fridtjof Nansen og Roald Amundsen, og se deres skibe Fram og Gjøa. Lær om Arktis' lokale folkeslag, hop ombord på polarforskernes to skibe, der faktisk har været på Nordpolen og lær om udfordringerne og de barske vilkår for polarekspeditionerne. Et virkelig interessant museum, der bliver formidlet på en fed måde.
Tag bus nr. 30 tilbage til Oslo centrum og stå af ved Hausmannsgate i hipsterkvarteret Grünerløkka, og nyd en frokost på en cafe.
Gå til den nærliggende kulturinstitution Blå og se på den flotte graffiti og oplev den kreative stemning. Gå derfra til Olaf Ryes plads i hjertet af hipsterkvarteret Grünerløkka og udforsk de hippe gader Thorvald Meyersgate og Markveien for at se nærmere på de fede butikker og hyggelige kaffebarer. Vær sikker på at besøge den svenske interiørbutik Granit, vintagebutikken Robot og den hyggelige rejsebutik Chill Out Travel store og slut af med en kop kaffe på Kaffebrenneriet på Olaf Ryes plads.
Efter du har oset i Grünerløkka er det tid til aftensmad. Spis enten aftensmad på den hypede pizzarestaurant Villa Paradiso ved Olaf Ryes Plads eller tag til den nærliggende Oslo Mathallen, der minder lidt om Torvehallerne i København. Her fik jeg lækre fiskekaker (fiskefrikadeller) og til dessert en skolebolle, der bedst kan beskrives som en blanding af en spandauer og en fastelavnsbolle.
Slut aftenen af med en lokalbrygget øl på Grünerløkka Bryghus på Thorvald Meyersgate.
Dag 2:
Få din morgenkaffe to-go og start dagen med at besøge Operahuset på havnen. Denne arkitektoniske perle er det ultimative fotostop, og man kan faktisk gå på taget af operahuset. Efter at have taget en masse fede billeder, så følg stien Havnepromenaden, der går langs havnefronten.
Gå til Akershus Fort for at tage flere smukke billeder. Indgangen til fortet er gratis, men det koster penge at se nogle af områderne på Akershus slot.
Gå derfra videre til Nationalteateret enten på gåben eller tag en bus eller en sporvogn. Køb din frokost to-go fra United Bakery, der ligger på torvet ved Nationalteatret, og begiv dig til den nærliggende Slottsparken ved Kongeslottet og se på mennesker, mens du nyder din frokost.
Gå derfra videre til Nationalgalleriet, hvor du kan se det verdensberømte Edvard Munch maleri "Skriget" og kunst af både norske og internationale malere. Hver torsdag er der gratis adgang til museet. Den fine museumsbutik er også et besøg værd.
Gå tilbage til torvet ved Nationalteatret for en kaffepause på Grand Hotel. Dette betagende luksushotel er mest kendt for at afholde den årlige Nobels Fredspris Banket. Hvis du ligesom jeg heller ikke har råd til at bo her, så kan du godt stadig få råd til en kop te eller en kop kaffe. Jeg gav 54 NOK for en kande te.
Begiv dig på gåben eller med bus til Vigeland Skulpturpark og spadser rundt i den flotte park. Her finder du 200 skulpturer i forskellige materialer af den norske billedhugger Gustav Vigeland.
Tag en sporvogn eller bus til Østbanehallen tæt ved Oslo Sentralstasjon for lidt aftensmad og måske lidt shopping i delikatesseforretningerne. Prøv fx en burger på Opland Burger & Steak eller lækker italiensk mad på Olivia.