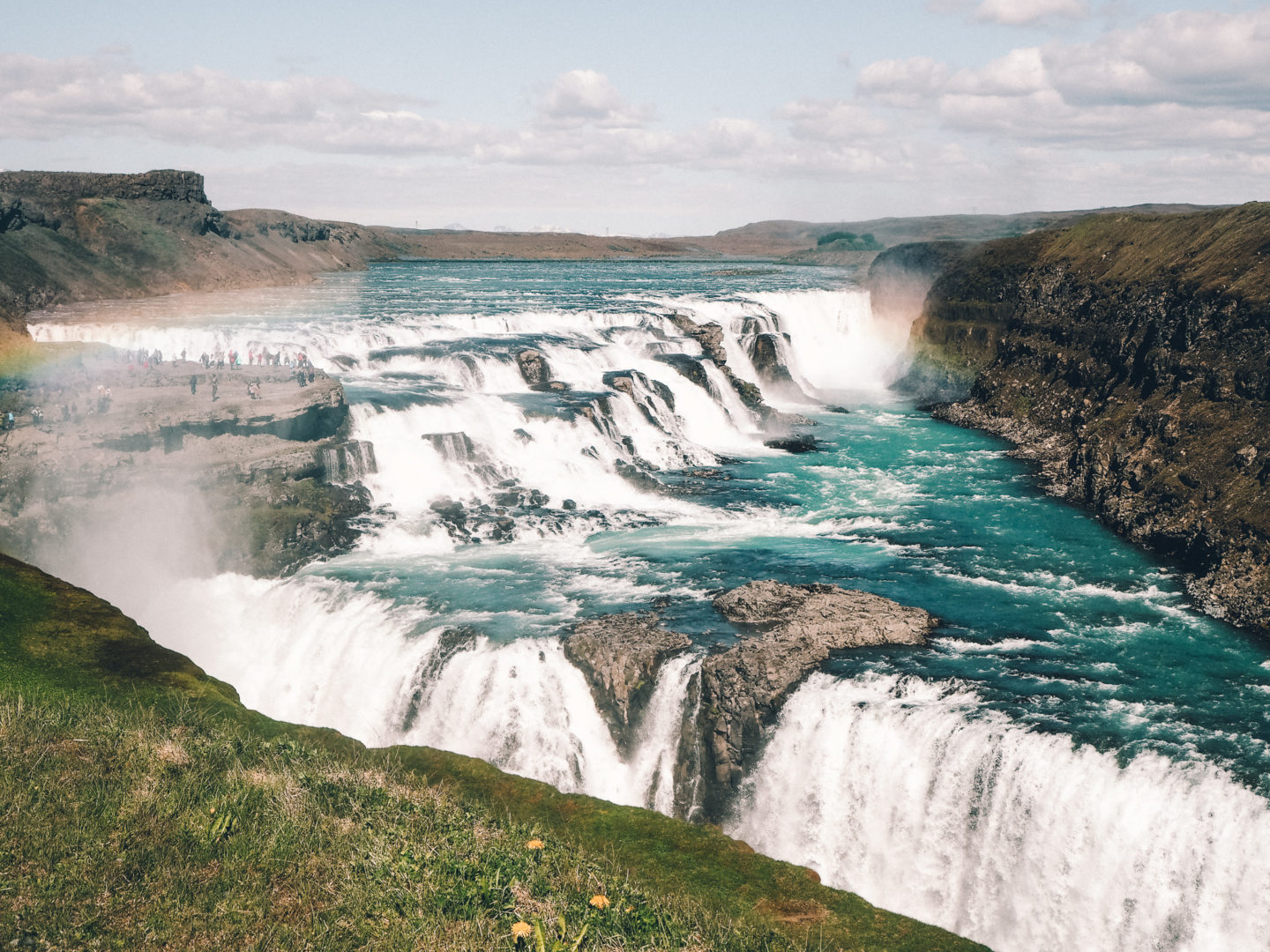 A must when visiting Iceland is taking a tour around the Golden Circle. So what is it? The Golden Circle consists of the sights Gullfoss Waterfall, Þingvellir National Park, and Geysir hot spring.
You can do the Golden Circle on a group tour if you're a solo traveler like me, or rent a car and do it at your own pace. I took this tour and it was a great way to see it all and having someone share their knowledge about the attraction and Iceland in general.
This national park is one of the UNESCO's World heritage site. The national park was previously the place of Alþingi, where leaders would meet up and legislate or discuss the current issue. Almost like a modern parliament.
Today þingvellir national park is best known as the place where you can dive between two tectonic plates. which means you can dive between North America and Eurasian at the same time. That is cool and the water is crystal clear. I, unfortunately, didn't have time for diving this time around, but I have to do it next time I am in Iceland. Read more about it here.
"Wow!". That was the first thing I uttered when I saw Gullfoss for the first time. As one who has seen the world's greatest waterfall, Victoria Falls, I perhaps shouldn't be as impressed with Gullfoss as I was. But there is something about Iceland's biggest waterfall. It lies in the middle of nowhere and arriving at the parking lot, you wouldn't immediately know, that one of Iceland's biggest tourist attraction was here. Then you see the 32-meter high waterfall and combined with the beautiful landscape, you completely get the hype. And best of all; visiting is completely free since it is a public place.
You can see the waterfall from a lower and a higher observation deck, that will provide you with quite different photos. Remember to bring a waterproof cover for your phone or your camera lens, as Gullfoss can splash quite a bit. I was really glad I had one to protect mine!
Geysir hot Springs
The third and final sight on the golden circle tour is the Geysir hot springs. This place isn't hot springs to dive into like The Blue Lagoon, these hot springs are very very hot! The great Geysir, that has named all geysers was the first Geyser know to Europeans. A geyser is a geothermal hot spring, where the activity in the underground warms up the water. Although you probably have seen pictures of the geysers erupting, not all geysers do. The big Geysir doesn't, but if you want to see one that does, the geyser Stokkur next to the big geyser do. Every 4-8 minutes it blasts water 20 meters in the air. So you can time it for your perfect photo shot.
As with the Blue Lagoon, one of the first things you notice is the specific odor of rotten egg in the Geysir park. That is due to the sulfur in the water. After five or ten minutes you'll get used to it.
Remember to stay on the paths, and don't get too close to the geysers. The water is boiling and you don't want to be burned.
---
Danish Recap
Et højdepunkterne når mange besøger Island er at tage turen langs Den Gyldne Cirkel. Hvad er det tænker du nok? Den Gyldne Cirkel består af attraktionerne Gullfoss vandfaldet, Þingvellir National Park og gejseren Geysir.
Du kan enten deltage i en gruppetur, hvis du er solorejsende som jeg, eller leje en bil og tage det i dit eget tempo. Jeg deltog i denne tur og havde en skøn tur, og det var rart at have en guide til at dele deres viden om attraktionerne og Island i almindelighed.
Nationalparken står på UNESCO's verdensarvsliste. Det var tidligere stedet for Alþingi, det gamle alting, hvor lederne mødtes og lovgav og diskuterede aktuelle problemstillinger. Næsten som et moderne parlament.
I dag er þingvellir National Park bedst kendt som stedet, hvor du kan dykke imellem to tektoniske plader, hvilket betyder at du kan dykke imellem to kontienter på samme tid, nemlig Nordamerika og Euroasien på samme tid. Hvor vildt er det ikke?! Og samtidigt er vandet helt krystalklart. Jeg havde desværre ikke tid til at dykke eller snorkle i denne omgang, men det står øverst på min liste næste gang jeg besøger Island. Læs mere om det her.
"Wow!". Det var det første jeg sagde, da jeg så Gullfoss for første gang. Som en, der har set det største vandfald i verden, Victoria Falls, burde jeg måske ikke have været så begejstret for Gullfoss, men der er noget ganske særligt over Islands største vandfald. Det ligger ude i ingenting, og når du rammer parkeringspladsen, så ville du ikke umiddelbart tro, at en af Islands største turist attraktioner var her. Så ser du det 32 meter høje vandfald, og kombineret med det smukke bagvedliggende landskab, giver hypen omkring vandfald mening. Bedst af alt er, at det er fuldstændig gratis at besøge, da det er et offentligt sted.
Du kan både se vandfaldet fra en lavere og et højere observationsdæk, der giver dig vidt forskellige billeder. Husk at medbringe et vandtæt cover til din telefon eller din kameralinse, da Gullfoss sprøjter en smule. Jeg var virkelig glad for at have medbragt et.
Geysir gejseren
Den tredje og sidste attraktion på den gyldne cirkel var gejseren Geysir. En Gejser er en geotermisk varm kilde, hvor aktivitet i undergrunden opvarmer vandet. Den store Geysir er faktisk den første gejser, vi kendte i Europa, og har lagt navn til begrebet gejser. Man kan ikke bade i disse varme kilder ligesom Den Blå Lagune, da vandet er meget meget varmt!
Selvom du muligvis har set billeder af gejsere i udbrud, så er det ikke alle gejsere, der gør det. Den store geysir gør ikke, men gejseren Stokkur, der ligger ved siden af Geysir gør. Hvert 4.-8. minut går den i udbrud, og skyder vand 20 meter op i luften. Så du kan time det, og få det perfekte foto.
Ligesom Den Blå Lagune, er en af de første ting du bemærker i Geysir parken den specielle odør af rådne æg. Det skyldes sulfatet i vandet, og efter en fem- ti minutter vænner man sig til det.
Husk at blive på de indtegnede stier, og kom ikke for tæt på gejserne. Vandet er skoldhedt, og tro mig, du vil ikke blive forbrændt!