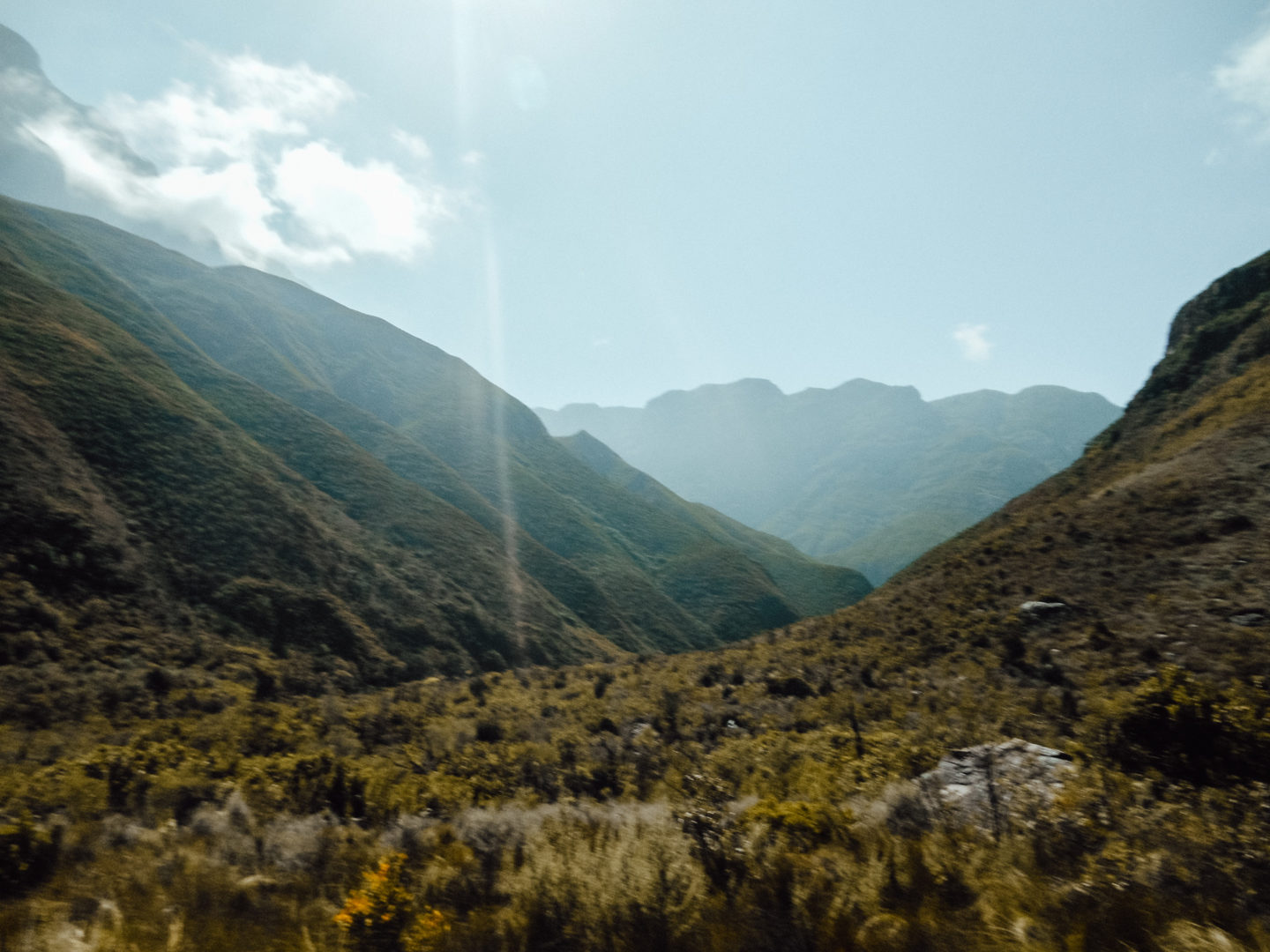 We stayed at a local house family for the first two weeks in Cape Town, and it was a great way to get a grasp of the local Afrikaan lifestyle. The son of the house was a nature-loving guy that loved hiking, kloofing, and doing outdoor activities, so when he asked us if we wanted to join him and his friends for a hike in Jonkershoek National Park, I didn't hesitate for a second.
Jonkershoek National Park is based near the beautiful area of Stellanbosch that is known for its many wine estates and the old university city of Stellanbosch. The national park has some great hiking and mountain bike paths. We took the hiking trail called "Tweede Waterval" which was an easy hike of 6,4 Km and it took us about 2 hours to complete the tour included bathing time at the waterfalls. There are two waterfalls on the trail, but it was not like the big waterfalls I encountered in South East Asia, but more like the minor waterfalls, you can experience when hiking in Nepal. It was an absolutely amazing experience hiking in Jonkershoek National Park and the best part of the trip for me was cooling down in the second waterfall!
The entrance fee for Jonkershoek National Park is R 40 and the best way to visit the park is by renting a car and visit the small wine Estate on the way back. Visit the national park early in the morning before it gets too hot, you don't wanna visit the park between 12 -15 pm when the sun is burning the most. And bring good hiking shoes, even though I was wearing my faithful Ecco sandals, I still managed to twist my ankle three times.
After our hike, we drove to the beautiful city of Stellanbosch, where the son of our house family knew a couple of friends who were throwing a braai. A braai can best be described as a South African version of a BBQ. You grill the meat on the grill and marinate it with some braai spices, and eat it with some tasty salads, garlic bread, and grilled potatoes or pumpkins. It tasted really good and was the perfect ending to a day of exploring the Stellanbosch region.
---
Danish recap:
De første to uger af vores tid i Cape Town boede vi hos en lokal familie. Det var en rigtig positiv oplevelse, og de var så søde og gæstfrie, at jeg næsten har følt, at vi også var en del af familien. Desuden har vi fået et enestående indblik i en typisk Afrikaan-families hverdag. Sønnen i huset var en rigtig friluftslivs entusiast, der ofte laver kloofing, vandrer eller cykler på mountainbike, så da han spurgte os, om vi havde lyst til tage med på vandretur i Jonkershoek National Park, var jeg ikke et sekund i tvivl.
Jonkershoek National Park ligger i det smukke Stellanboschområde, der især er kendt for dets mange vingårde og vinmarker, og den hyggelige og fine universitetsby Stellanbosch, der er en af de ældste byer i Sydafrika. Nationalparken har nogle rigtige gode cykel- og vandre ruter. Vi valgte vandreruten "Tweede Waterval", en jævn 6,4 km lang tur uden de store stigninger, hvor man passerer to vandfald på vejen, og det tog os ca. 2 timer. Det var en fantastisk tur, og for os danskere, der ikke er vant til bjergrig natur, er omgivelserne ekstra spektakulære. Højdepunktet på turen var helt sikkert at hoppe i de naturlige pools og bade i vandfald efter have vandret i flere timer i bagende sol.
Indgangen til Jonkershoek National Park koster 40 R, og den bedste måde at besøge parken på er at leje en bil, og så besøge et par af de mange vingårde man passere på vejen. Det er desuden en god ide at komme så tidligt på dagen som muligt, da den bagende middagssol er alt for varm at vandre i. Husk i øvrigt gode travesko; jeg havde mine trofaste Eccosandaler på, som jeg har brugt på vandretur i Kina, men pga. af mange løse sten vred jeg om tre (!!!) gange på turen. Det gjorde meget ondt de efterfølgende par dage.
Efter at havde tilbagelagt Tweede Waterval-ruten kørte vi ind til Stellanbosch by, hvor vores værtsfamilies søns venner boede. De holdte en kæmpe braai, og havde været så søde også at invitere os. En braai kan vist bedst beskrives som en sydafrikansk barbecue eller grillaften. Man griller en masse forskelligt kød og krydrer det med braaikrydderier, og så spiser man det med ovnbagte kartofler eller græskær, lækre salater og hvidløgsbrød. Mums! Det var den perfekte afslutning på en rar dag i Stellanboschområdet.