So you probably been bombarded with pictures of The Blue Lagoon on Instagram. The Blue Lagoon is probably the most famous of the Icelandic must-sees and even tough it is overpriced and crowded, it is still worth the price tag, because this is a unique experience. Sitting in the mesmerizing blue water surrounded by the black lava landscape is an Iceland must-do.
What is it?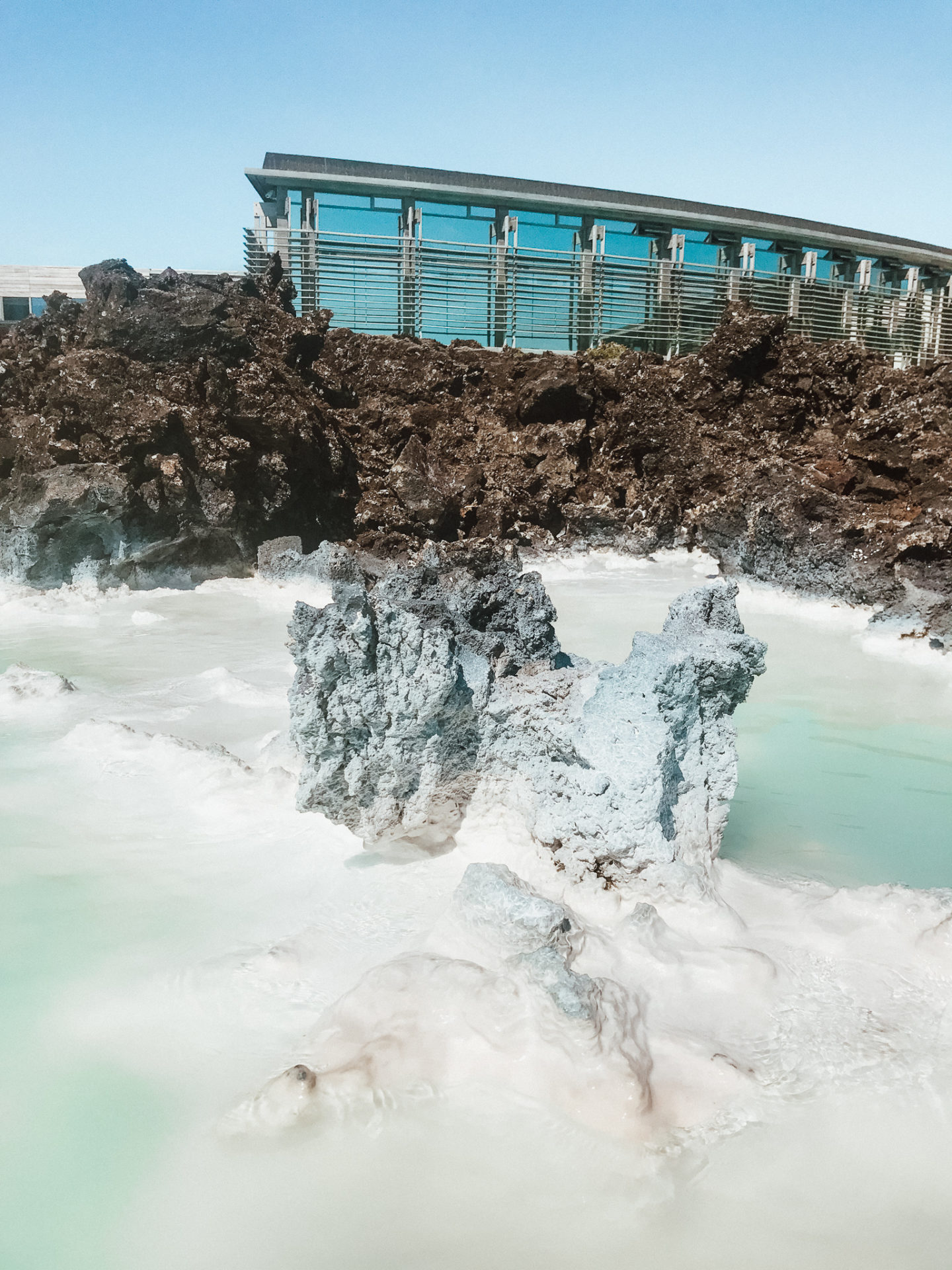 The Blue Lagoon is a geothermal pool that consists of a combination of water and Silica. Silica is a mineral compound of Silicon and oxygen, and the reason the lagoon has the characteristic blue color, is due to the way silica reflects the visible light. Read more here. It is nicely warm at 38 degrees. 
How to do it?
Book online
As The Blue Lagoon is one of Iceland's most popular tourist attractions, you have to book it advance. You choose an available timeslot where you can visit it. On the website you can also book a bus ticket for the bus going straight to The Blue Lagoon from Reykjavik City Center. The lagoon is located between Reykjavik and Keflavik Airport, so you can also visit it if you are having a quick stop-over in Iceland between North America and Europe. 
When you make the booking you have to choose your package. You can choose from three different packages for you visit; I chose the cheapest one, the "Comfort: Blue Lagoon" For 5.900 ISK that includes Entrance to lagoon, 1 free Silica mud mask, a rental of a towel and 1 free drink.
Pack for the Blue Lagoon
So obviously you have to pack your bathing suit and toiletries for your visit, but another thing that really came in handy for me was my selfie stick and a waterproof cover for my Iphone. Drowning your phone or camera can quickly ruin your visit, so bring a waterproof cover for your phone or your GoPro. I bought mine on Amazon.
Get to the Blue Lagoon
You can either take a bus to The Blue Lagoon or your can get here by car. I checked out of my hostel and went with my pre-booked bus to the Blue Lagoon on the way to the Airport. The Blue Lagoon has a storage for your lockage, so you can have fun at the lagoon and go straight to the airport.
Check in and get your electronic wristband to the locker room
Show up at the Blue Lagoon for your booked time slot, and get your towel and your electronic wristband, that you can use for your locker in the changing room. Take a quick shower before hitting the lagoon.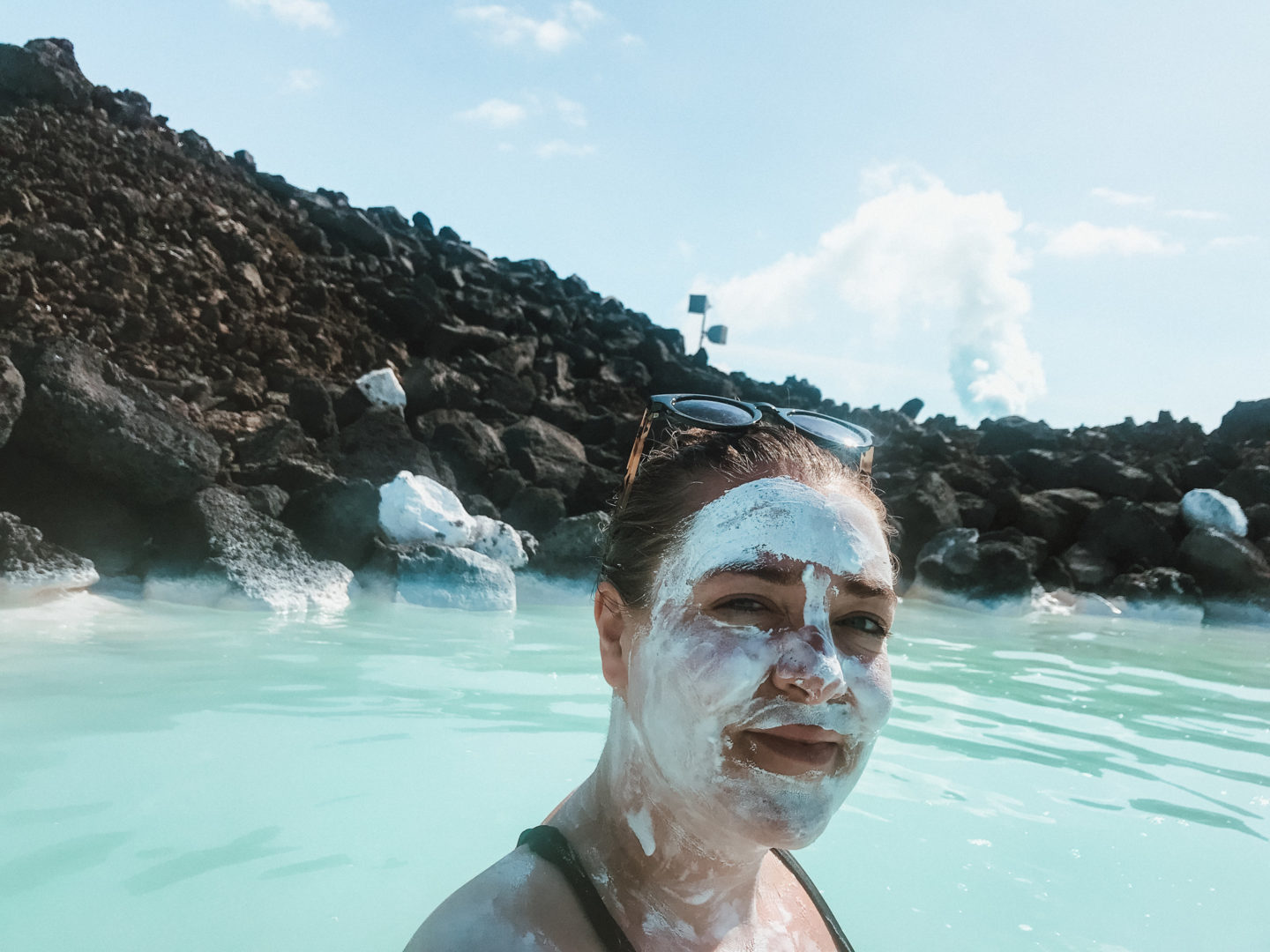 Get your free Silica and algae mask from the Mud Bar
The comfort package includes a free Silica Mud mask, so swim up to the Mud bar and get your mask. Wear it for around 15 minutes before washing it off in the lagoon water.
Take your token Instagram Photos
Get out your waterproof protected camera or phone and take your new instagram photo. There is free Wifi in the Blue Lagoon, so you can quickly update your social media. I was even facetiming one of my friends while sitting in the pretty blue water.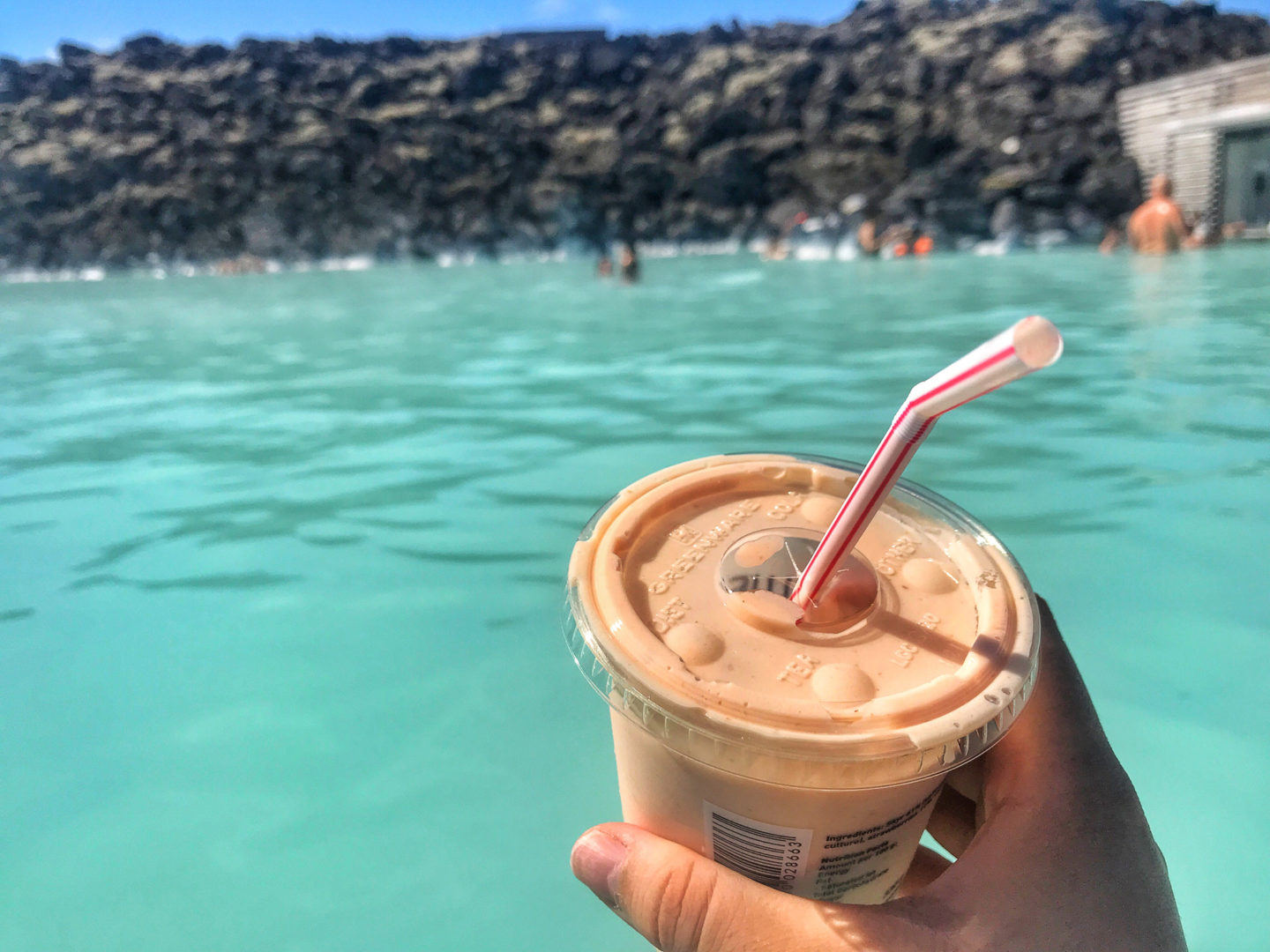 Get your free drink a the in-water bar. I had a smoothie, but you could also enjoy a glass of wine
Another thing that is included in your package is a free drink. I can't remember the options on the top of my head, but I chose the smoothie to get that wellness feeling.
Check out the Blue Lagoon Skin Care Store
After you're done bathing in The Blue Lagoon and done showering and pampering. You have to check out the Blue Lagoon Skin Care Store. Here you can buy different product based on minerals from the Blue Lagoon. Get a Silica Mud Mask to bring back home as souvenir or buy it online from their website.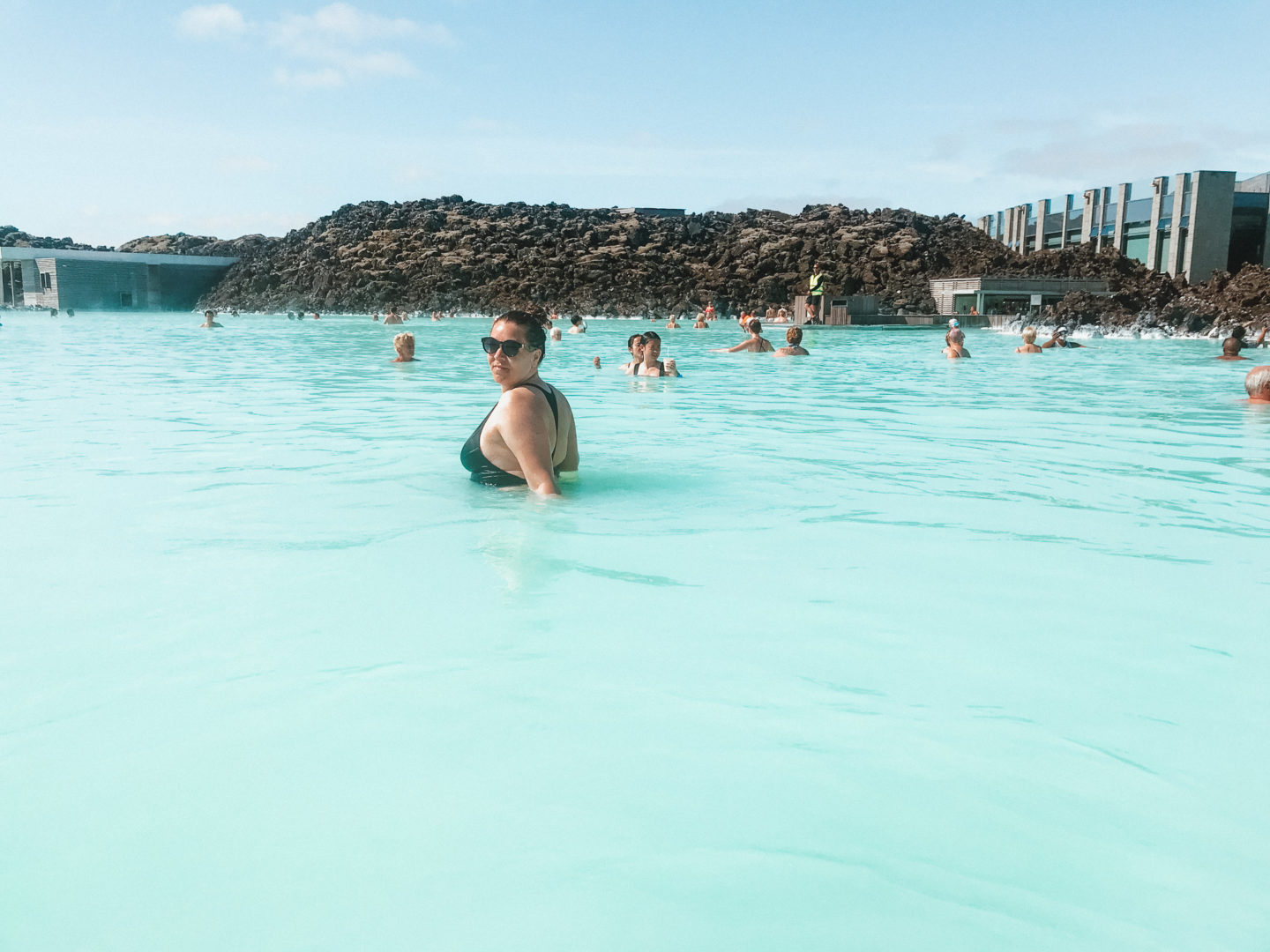 ---
Danish recap:
Du er garanteret blevet bombarderet med smukke billeder af Den Blå Lagune på instagram og andre sociale medier. Lagunen er nok det mest kendte af Islands vartegn, og selvom der er for mange mennesker, og entreprisen er absurd høj, så ændrer det ikke på, at dette er en helt unik og enestående oplevelse. At sidde i det karakteristiske blå vand omgivet af det sorte lavalandskab er noget, du bare ikke må snyde dig selv for!
Hvad er det?
Den Blå Lagune er en geotermisk kilde, der består af en kombination af vand og silica. Silica er et mineralsk produkt af silicium og ilt og er faktisk årsagen til lagunens karakteristiske blå farve. Det skyldes nemlig den måde silica reflekterer det visuelle lys. Læs mere her. Desuden er den dejlig varm med en temperatur på 38 grader.
Hvordan besøger jeg dette fede sted?
Book online
Da Den Blå Lagune er en af Islands mest populære seværdigheder, så bliver du nødt til at booke en billet i forvejen, hvis du vil være sikker på, at der er plads. Du vælger et bestemt tidsrum, du vil besøge stedet, på deres hjemmeside. Her kan du desuden også booke en bus, der går direkte fra centrum i Reykjavik og til lagunen. Den Blå Lagune er beliggende imellem Reykjavik og Keflavik lufthavn, så der er også mulighed for at besøge stedet, hvis du har en transitophold på din tur imellem Europa og Nordamerika.
Når du booker din tid, skal du vælge imellem stedets tre forskellige pakketilbud. Jeg valgte den billigste, deres "Comfort: Blue Lagoon" til 5.900 ISK (lidt under 300 danske kroner). Denne pakke inkluderer entre til lagunen, 1 gratis silica muddermaske, 1 gratis drink og leje af håndklæde.
Pak til den Blå Lagune
Udover det åbentlyse såsom badetøj og toiletsager så var der yderligere et par andre ting, der viste sig virkelig brugbare for mig; min selfiestang og et vandtætcover til min Iphone. Der er intet som en druknet mobil, der hurtigt kan ødelægge din ferie, så medbring et vandtæt cover, der kan beskytte din mobil eller dit GoPro kamera. Jeg fandt et på Amazon, og det reddede mig flere gange i løbet af min tid på Island, hvor vejret kan skifte årstid flere gange på én dag.
Tag til Den Blå Lagune
Enten kan du tage en bus til stedet eller du kan køre hertil i din lejebil. Jeg tjekkede ud af mit hostel og besøgte Den Blå Lagune på vej til lufthavnen. Stedet har desuden et overvåget garderoberum, hvor du kan efterlade din bagage, mens du hygger dig i vandet.
Tjek ind og få udleveret dit elektroniske armbånd
Mød op på det tidsrum, du har booket billet til, og få udleveret dit håndklæde og et elektronisk armbånd, der giver dig adgang din omklædningsrummene. Tag et kort bad, inden du hopper i lagunen.
Få din gratis silica- og algemaske fra mudderbaren
Comfortpakken inkluderer en gratis Silica muddermaske, så svøm op til mudderbaren og få udleveret din maske. Den skal sidde på i ca. 15 minutter, inden den vaskes af i lagunens vand.
Tag de obligatoriske billeder til Insta
Find dit vandtætte kamera eller mobil frem og forevig din oplevelse. Der er gratis Wifi i lagunen, så du kan hurtigt få opdateret dit insta-feed. Jeg facetimede endda med en veninde, mens jeg sad i det smukke blå vand.
Få en gratis drink i baren
En anden ting, der er inkluderet i din pakke, er en gratis drink. Jeg kan ikke på stående fod huske udvalget af drikkevarer, men jeg valgte en smoothie for at forstærke wellnessfølelsen.
Tjek Blue Lagoon Skin Care butikken ud
Efter du er færdig med at bade i lagunen og er færdig i omklædningsrummet, så kig indenfor i Blue Lagoon Skin Care butikken. Her kan du købe forskellige produkter, der er baseret på mineralerne fra Den Blå Lagune. Du kan bl.a. købe en Silica muddermaske, hvis du vil genopleve lidt af spaoplevelsen derhjemme, men du kan også købe produkterne online her.