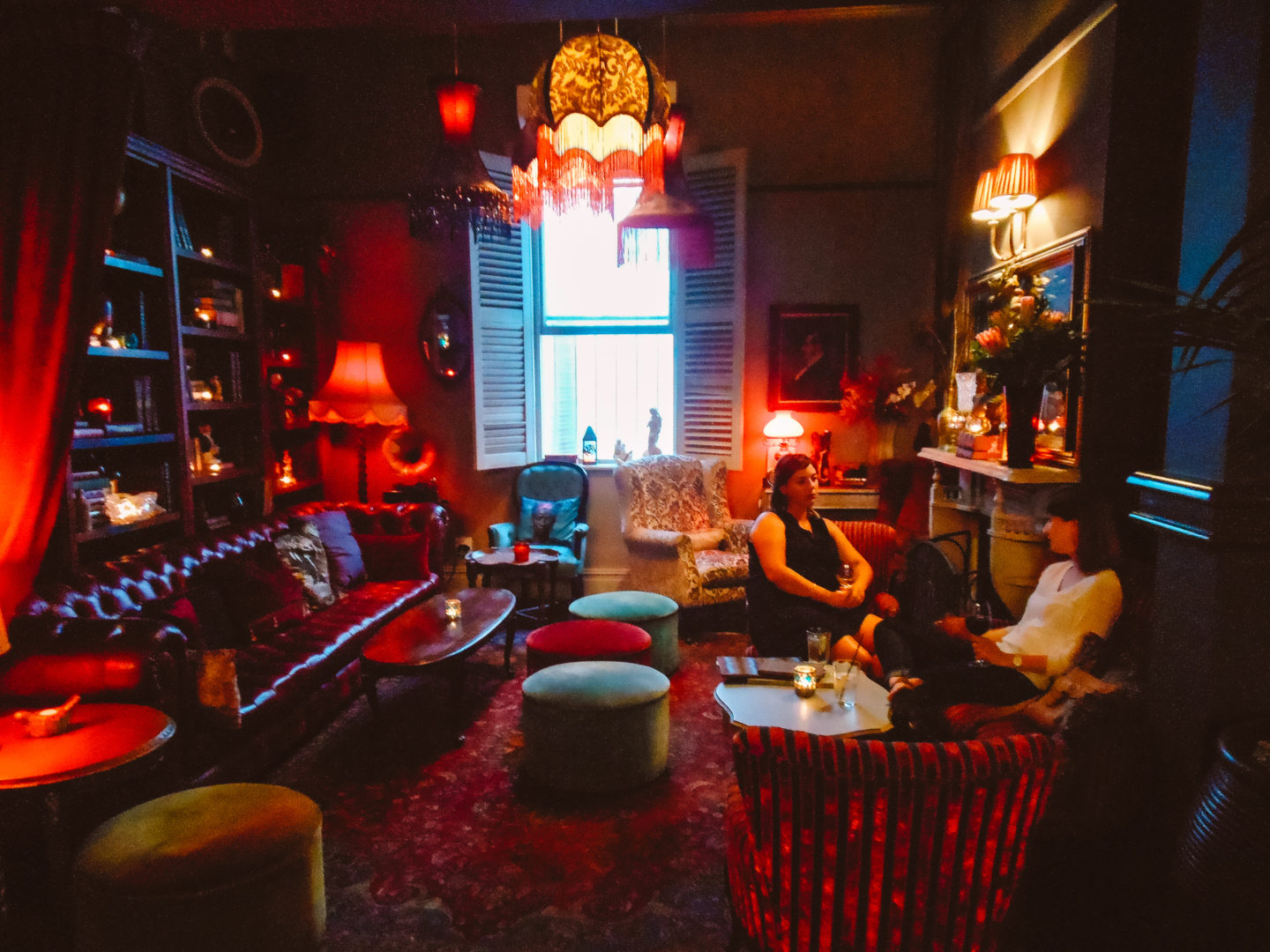 Kloof Street House
Cape Town has a great cultural scene. Lots of cool street art, lots of street musicians, fancy art galleries, underground theaters, and great jazz clubs. Some of the coolest streets are Kloof Street, Bree Street, and the side streets to them. Here you'll find a lot of lovely restaurants, cozy coffee shops, fancy art galleries, and cute fashionable shops.
My roomie Ali knows a local guy, Nick, and he gave us a lot of great tips for eating and partying in Cape Town.
Every month there is an event in Cape Town called 'First Thursday' on the first Thursday of the month. A lot of galleries are open during the evening, and there are a lot of small happenings taking place around the city center. We were supposed to participate in the event, but our restaurant was so excellent that we never made it to the galleries.
We visited the splendid restaurant, Kloof Street House, the interior was stunning with a lot of peculiar details. The food was also absolutely amazing! I had Osso Bucco and salted caramel cheesecake with popcorn sorbet. It was tasty, especially the cheesecake.
After a lovely dinner, we continued to a bar called House of Machines, where the local guy Nick worked. Here I enjoyed a Dark 'n Stormy while listening to the electronic jungle music. After a couple of drinks, we moved on to another bar called Aces 'n Spades, which was absolutely packed with people.
First Thursday is an absolute must to experience if you happen to be in Cape Town on the first Thursday of the month. If you are eating out, be sure to make a reservation in advance as most restaurants are busy during the event, and it can be hard to find a table.
Danish Recap:
Cape Town er en rigtig fin kulturel perle med en bred vifte af forskellige spændende tilbud til de kulturinteresserede. Der er masser af flot street art, gademusikanter, smarte gallerier, undergrundsteatre og fede jazzklubber. Nogle af de mest interessante og hippe gader i Cape Town er Kloof Street, Bree Street og de forskellige sidegader til disse. Her er fyldt med lækre restauranter, hyggelige kaffebarer, smarte gallerier og små fashionable butikker.
Min søde canadiske roomie Ali kender en lokal fyr, Nick, og han gav os masser af brugbare tips til gode spisesteder og festlige barer i Cape Town.
Hver eneste måned er der et event i Cape Town kaldet " First Thursday". Den første torsdag i hver måned har mange af gallerierne åben til kl. 21, og der foregår en masse små begivenheder rundt omkring bymidten. Det var egentlig meningen at vi skulle deltage i "First Thursday", men vi hyggede os så meget på restauranten, at vi bare aldrig kom videre, og i og stedet for at være kulturelle tog vi ud og svingede træbenet.
Vi spiste på den spektakulære restaurant Kloof Street House. Jeg var især ret betaget af indretningen, der var fyldt med masser af fine æstetiske detaljer. Maden var bestemt heller ikke at kimse af; jeg nød min osso bucco til hovedret og en himmelsk saltkaramel cheese cake med popcorn sorbet is (en noget mærkelig konstellation, der ikke desto mindre smagte fortryllende sammen).
Efter vores udsøgte middag udforskede vi nattelivet i Cape Town. Første stop var baren House of Machines, hvor Ali's lokale ven, Nick, arbejdede. Her nød jeg en Dark n Stormy og lyttede til aftens gyngende eletroniske jungle musik. Herefter tog vi på en anden bar, Aces 'n Spades, der var fuldstændig proppet.
"First Thursday" er et must, hvis du befinder dig i Cape Town den første torsdag I måneden. Hvis du spiser ude er det en god ide at bestille bord, da det kan være svært at finde et ledigt bord nogle steder.