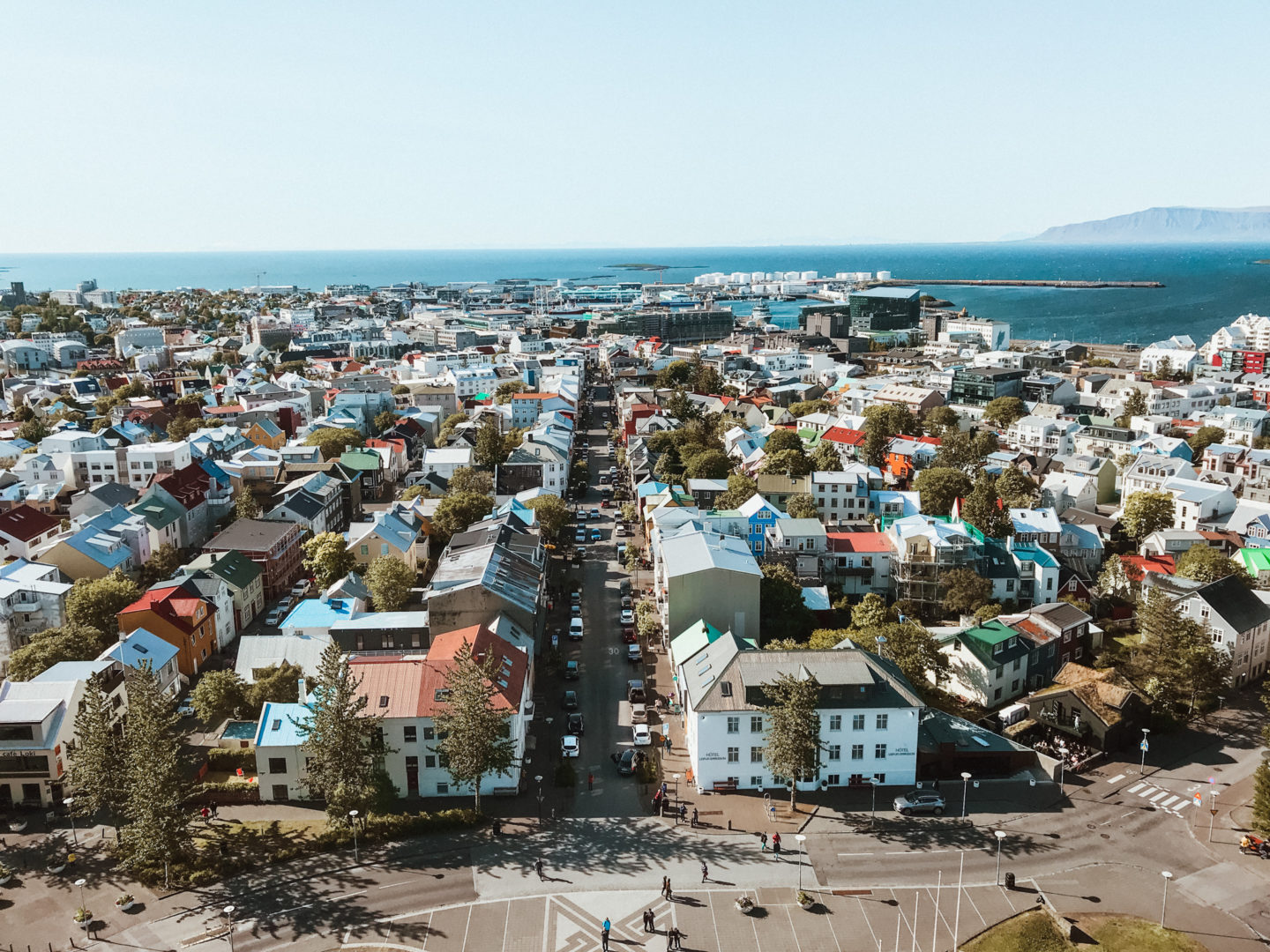 Beautiful Iceland is the perfect place for adventure travel. It has a landscape that is out of this world, and plenty of thrilling activities to keep you occupied for days, however, you should not discard the charming capital, Reykjavik. Though it may seem rather small, it is still a hip and cultural city, where you can easily spend a couple of days before embarking on the famous ring route, or simply as your base for exploring the country of ice and fire.
Transportation
Unless your sailing to Iceland, your journey starts at Keflavik Airport. The airport is however quite far from Reykjavik. Depending on your further travel plans, you can either rent a car at Keflavik Airport, or you can take a bus to Reykjavik. I took Gray Line bus from Keflavik to Reykjavik downtown. It is 5400 ISK for a return ticket, and just tell the driver which hotel you are staying at, and the driver will tell, which stop is yours.
If you're renting a car do bear a few things in mind. Be sure to check how many kilometers per hour you are allowed to drive; some places there are oneway bridges, where you can only drive 30 km per hour. Iceland's roads are not constructed for the massive amounts of tourists visiting every day. The roads are quite narrow, so even though nature is breathtaking, don't stop up randomly on the road to takes pictures, it is a huge annoyance for other drivers and the locals especially.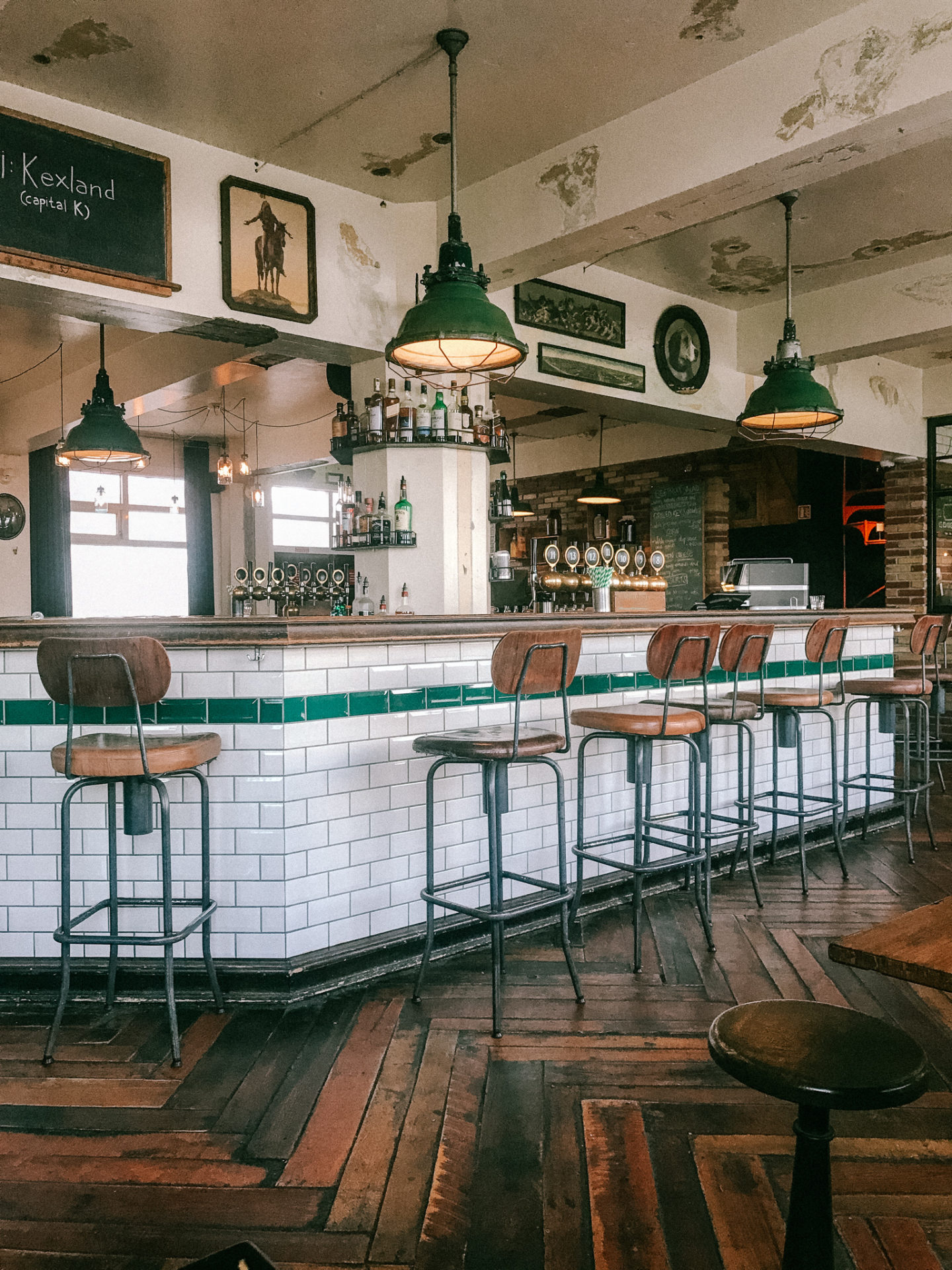 Accommodation
Iceland is not the cheapest destination, so finding accommodation at a reasonable price, will make help you prolong your travel budget tremendously. I stayed at KEX Hostel, a budget-friendly hostel located within walking distance from most of the major sights in Reykjavik. It is placed in an old biscuit factory, and they have decorated it with cool industrial features, that enhance its former function. Perfect is you're a solo traveler!
This stylish apartment hotel is located in one of Reykjavik's most charming streets. It is perfect for couples who want to be able to cook their own food, and still have access to downtown Reykjavik.
The hotel is the largest one in Reykjavik and is centrally located in business district of Reykjavik. This hotel is perfect for families or groups. It also has meeting rooms for companies looking for a different and unique business trip.
What to see in Reykjavik
With a population of around 130.000 people, Reykjavik feels quite small. However, there are so many things to do here that you won't be bored.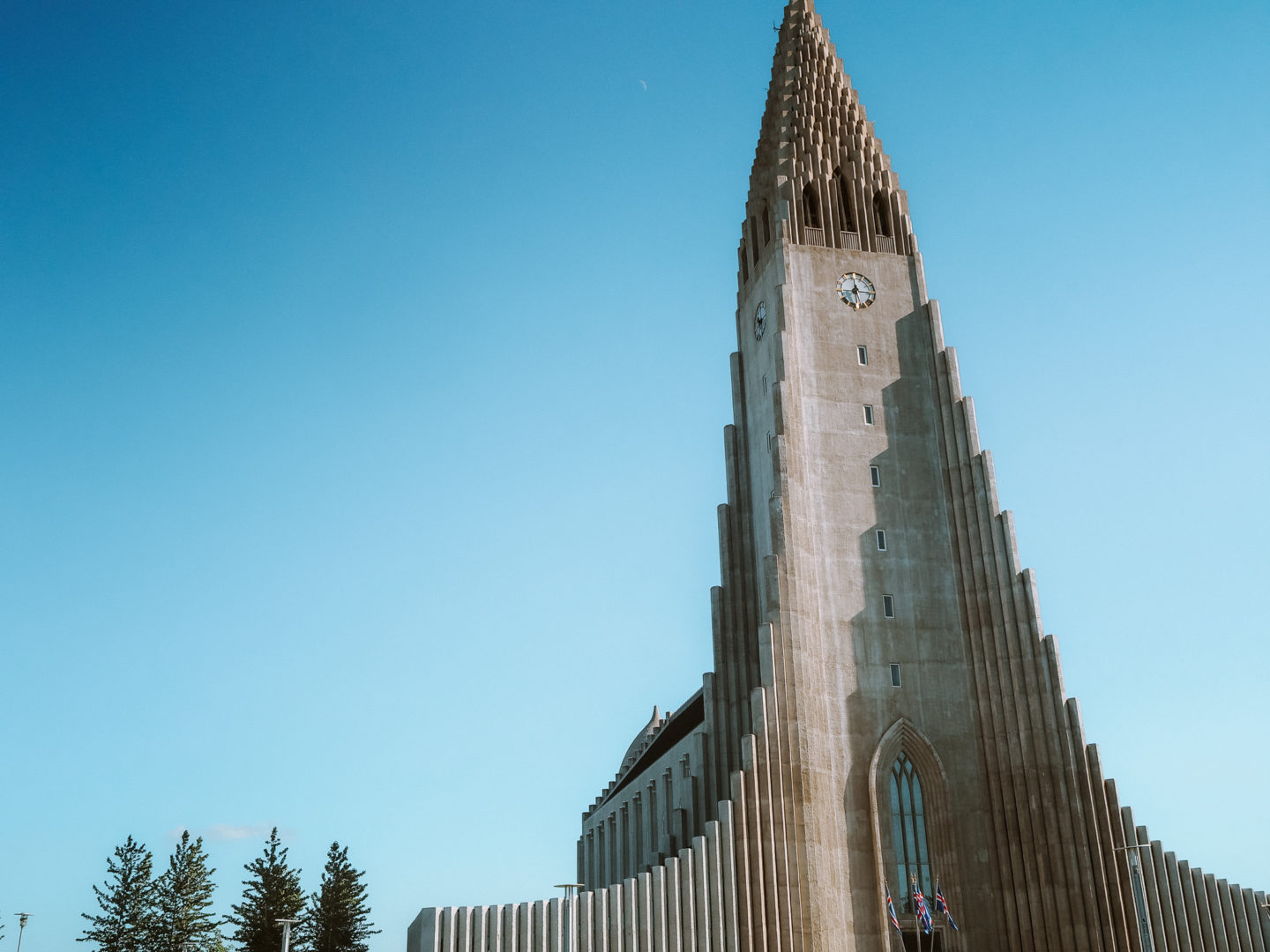 This unique architectural landmark is designed by the architect Guðjón Samuelsson. The 74 m bell tower gives you a 360-degree view over Reykjavik and offers great photo options. Visiting the church is free, but It costs 1000 ISK to visit the tower.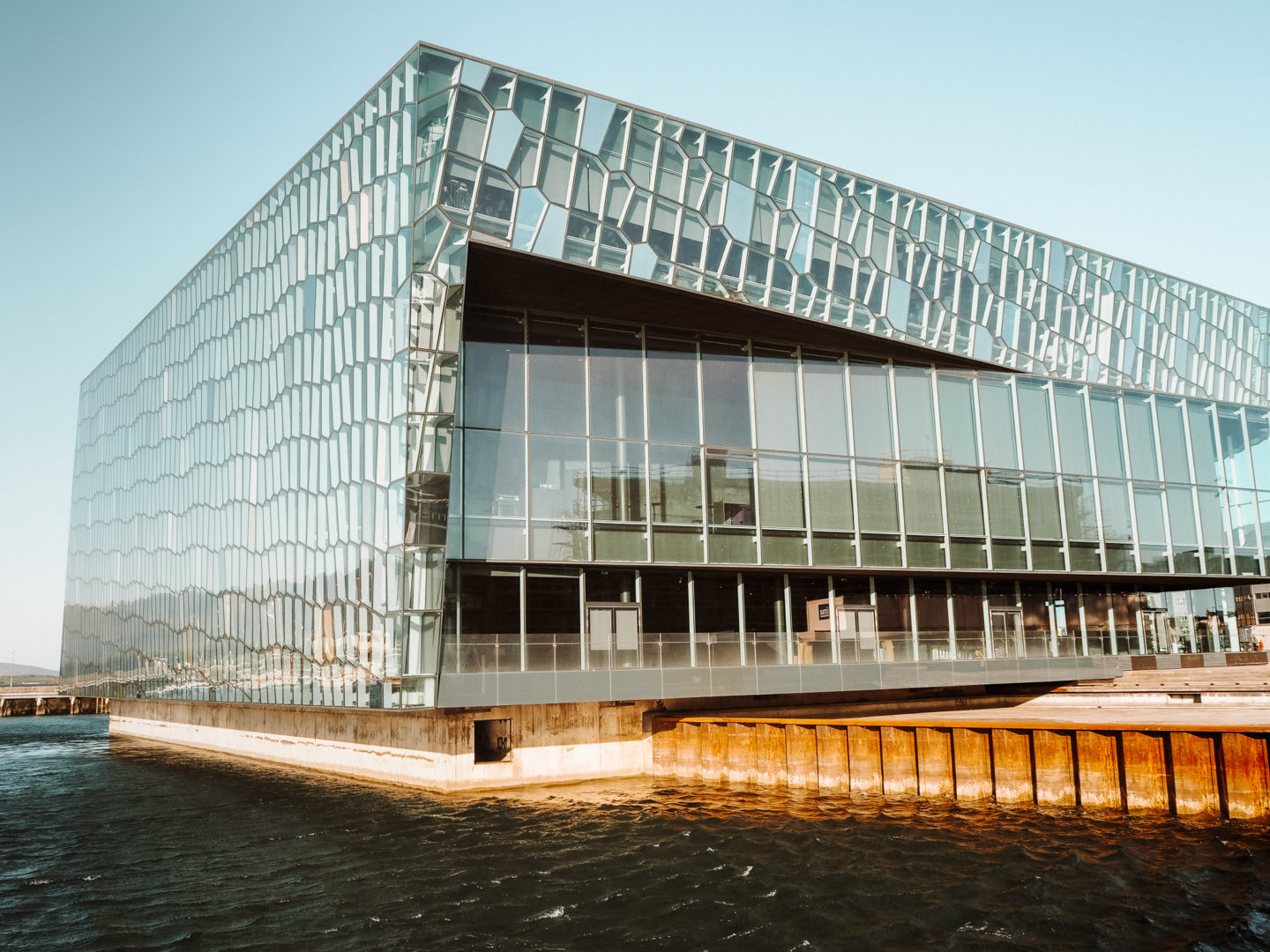 This beautiful concert hall and opera house is designed by the Danish architect group, Henning Larsen Architects, in collaboration with the artist Olafur Eliasson. One of my guides on the group tour told me that Harpa is known among Icelandics as a symbol of the financial crisis that hit Iceland very hard. The construction of it was put on hold for 6 months because of the crisis. Harpa houses Iceland Symphony Orchestra and The Icelandic Opera, so watching a performance here while you're in Reykjavik.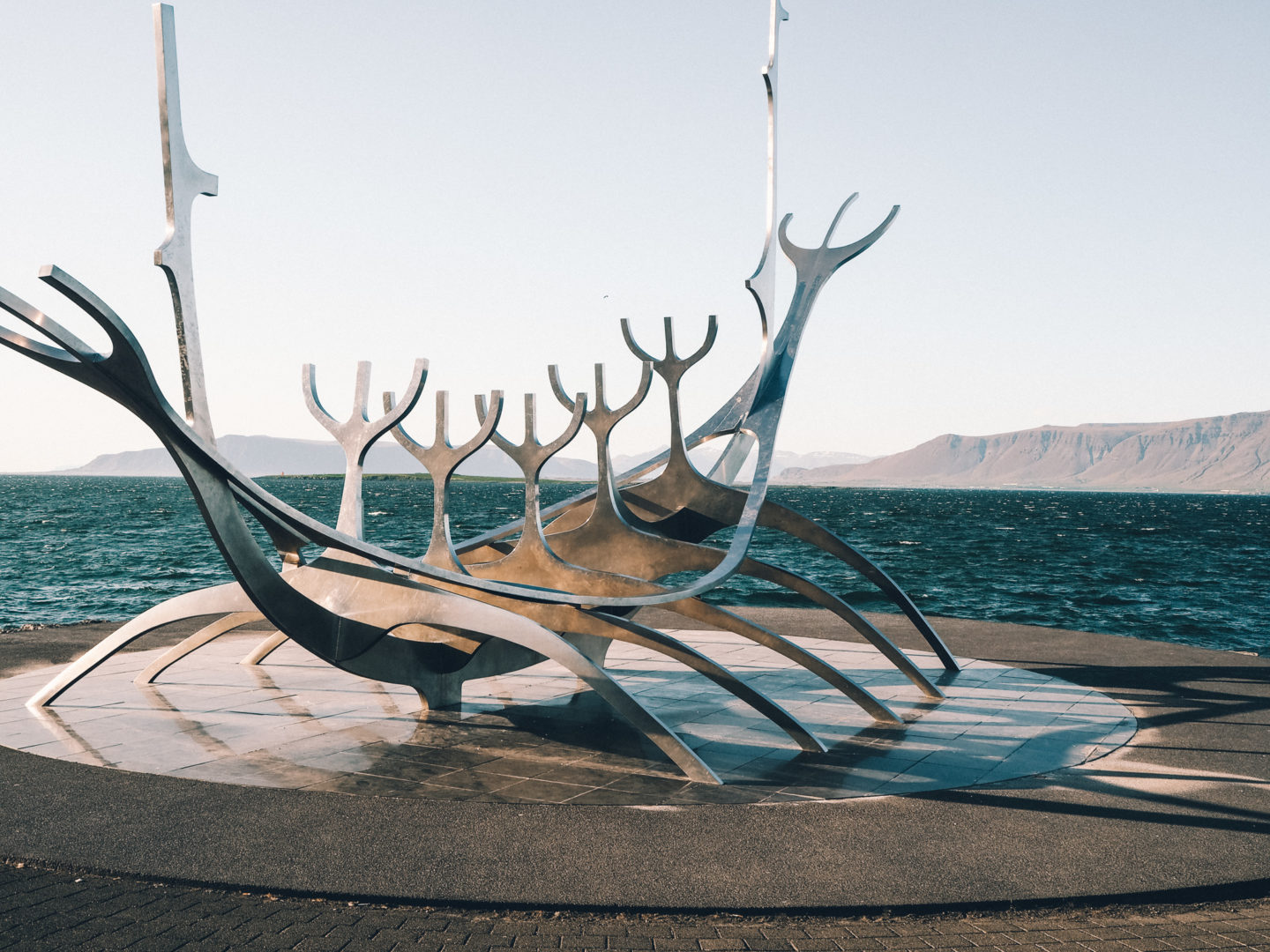 Located near the harbor front, this sculpture by Jón Gunnar Àrnason looks like a Viking ship in stainless steel. Perfect for an Instagram photo.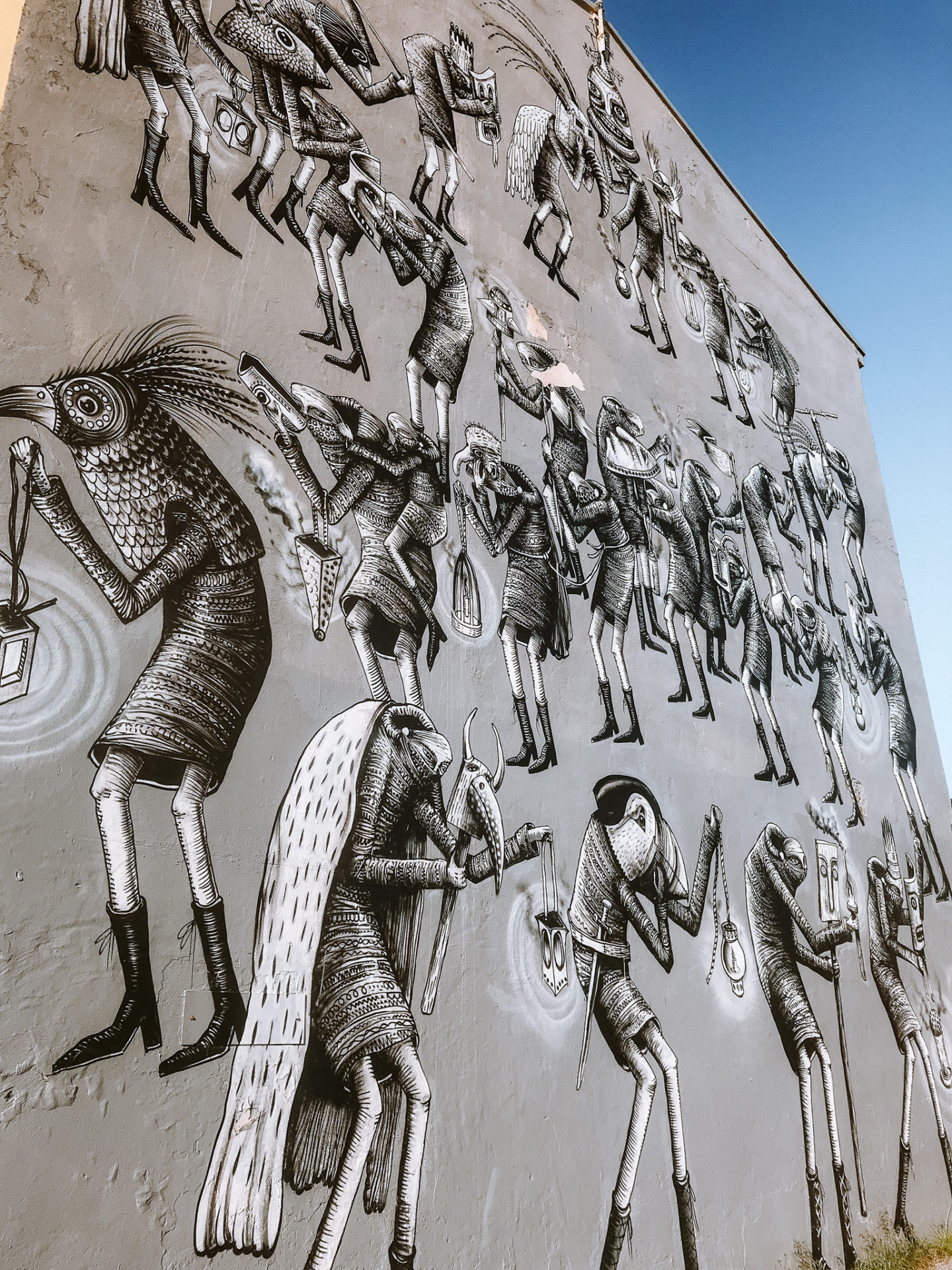 Look for street art
Walking around the cozy streets of Reykjavik, one quickly comes to realize the massive amount of street art in Downtown Reykjavik. Look at the map here if you wanna go on your own graffiti tour.
Daytrips from Reykjavik
A foodie's dream
Despite its small size, Reykjavik is a foodie's dream. There are so many great restaurants and the ingredients are fresh and local. I only had time to visit a handful of restaurants during my stay, but I was very pleased with the quality of food.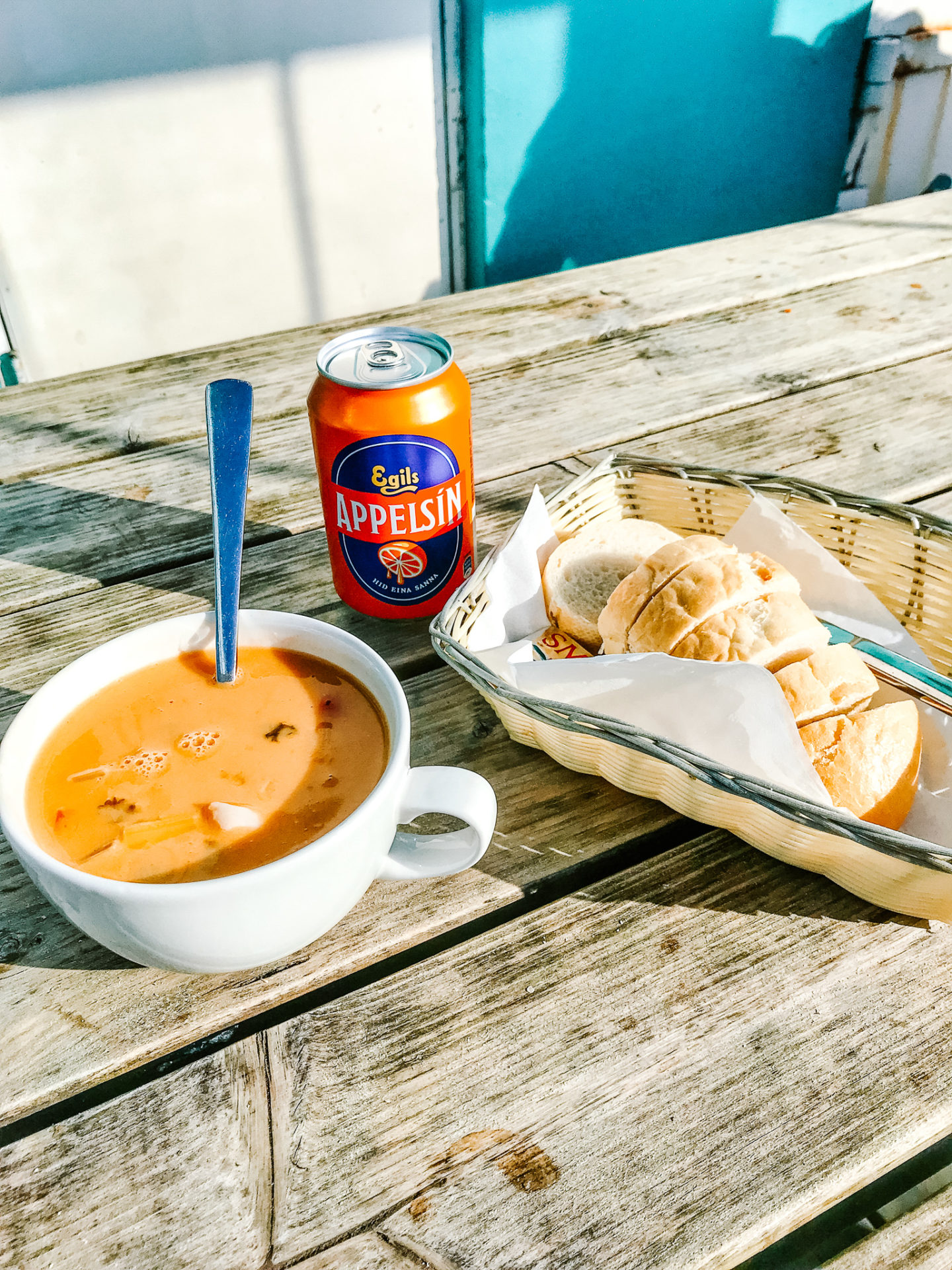 Supposedly this little restaurant serves the best Lobster Soup in Reykjavik, so naturally, I had to check it out. I don't know if it is the best lobster soup I ever had, but it was definitely very budget-friendly. I also had an Egils Appelsin soda, an Icelandic fizzy drink, and I enjoyed it all in front of the restaurant with a view over the harbor.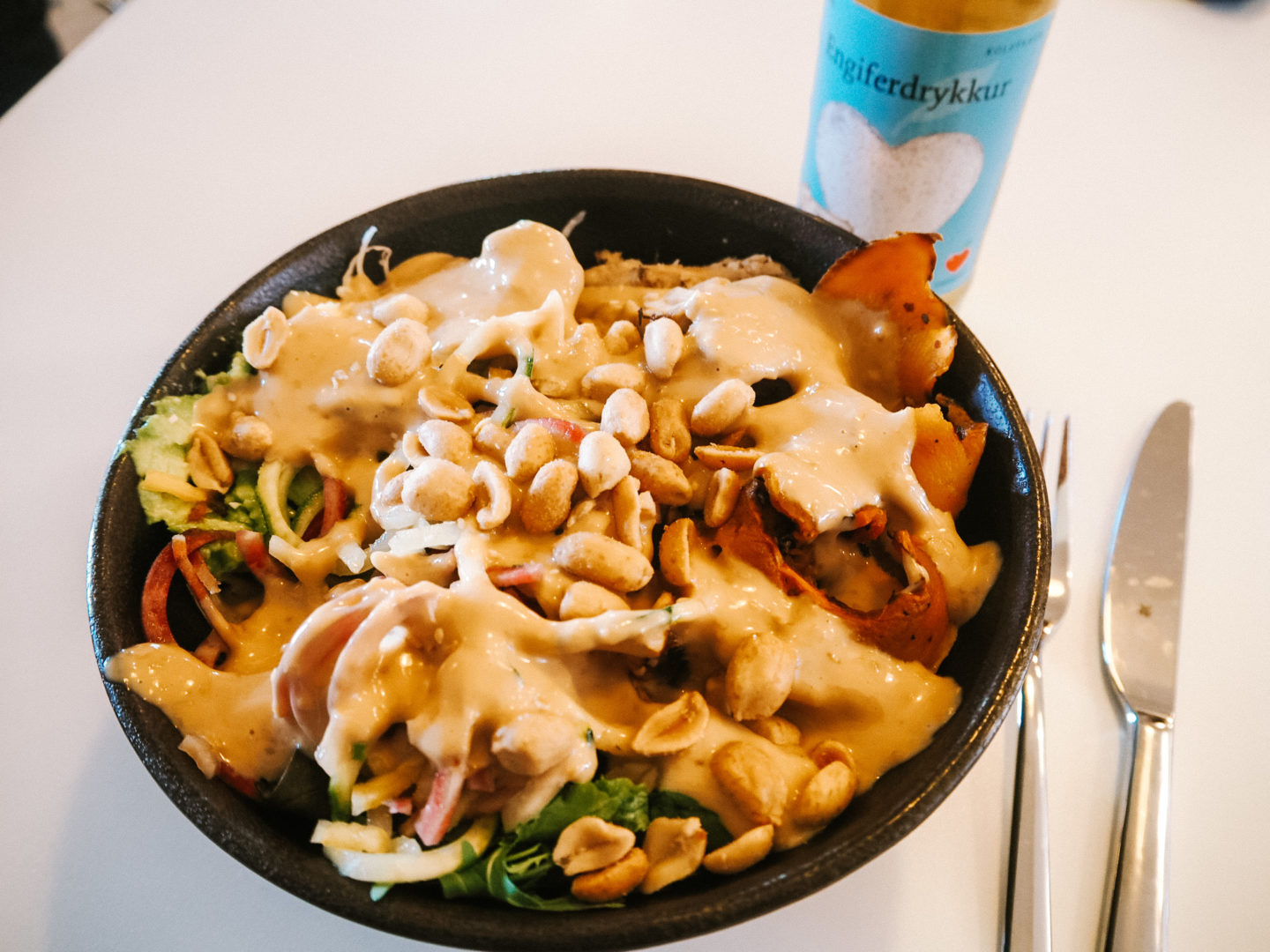 If you're looking for delicious healthy food, Restaurant Gló is a must. The restaurant focuses on using fresh ingredients mainly from local farmers. Gló has a simple and down-to-earth vibe and is great for lunch. I had the Thai Bowl and it was very tasty.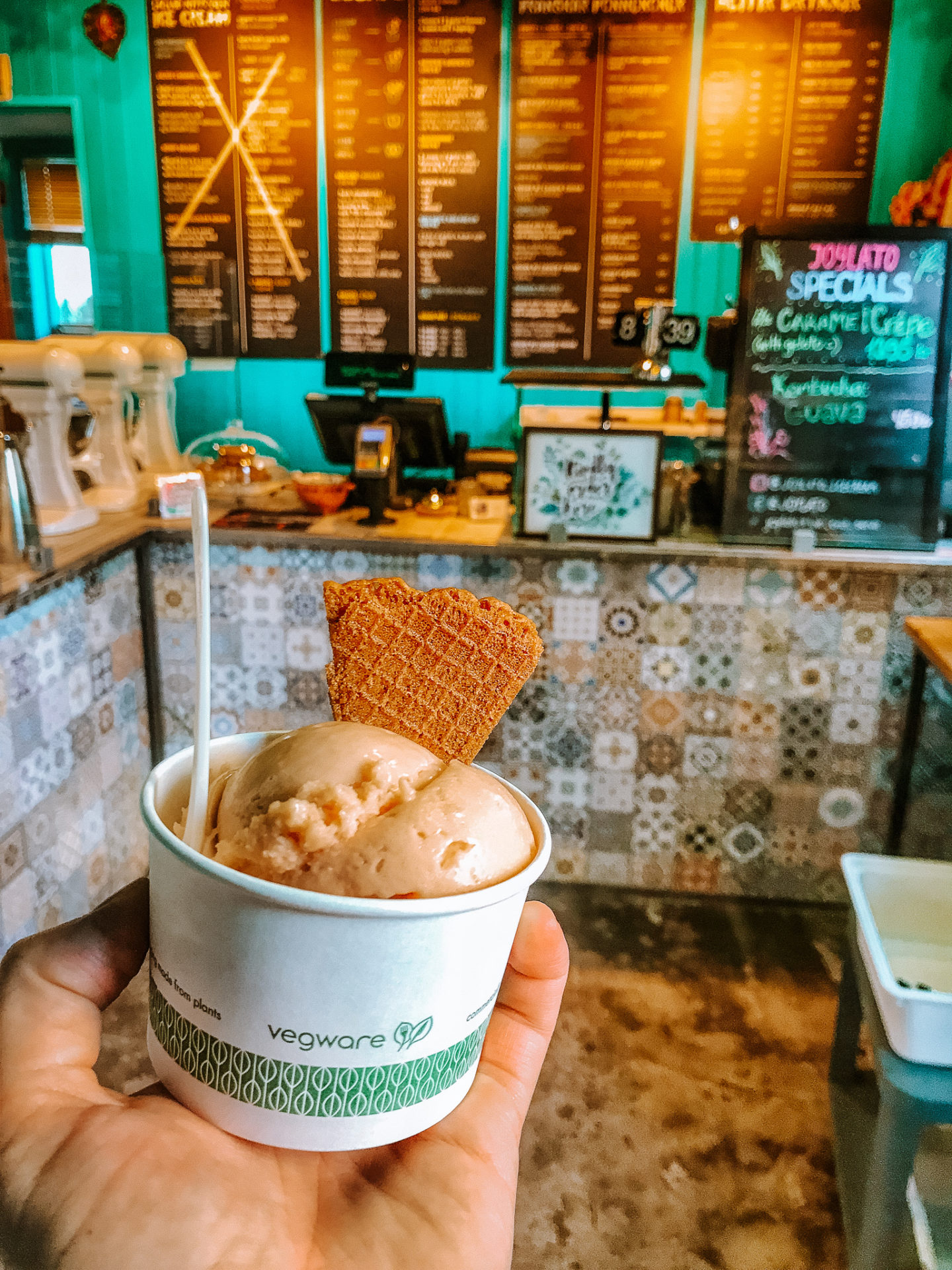 Everyone that knows me knows that I love ice cream, so when I passed by this little cute ice cream shop, I knew I had to taste their gelato. It uses sweeteners like stevia, dates, and coconut blossom sugar instead of refined sugar. So you can eat an extra scoop of ice cream without ruining your diet. I tried the flavors "Popcorn/ caramel" and "Guava/blood orange" for 900 ISK for 2 scoops. With its colorful and Boheme interior, Joylato is the perfect Instagram location.
This cozy cafe is great if you're looking for a hot cuppa or a piece of cake. But the main reason for me to recommend it is for its one of a kind Starwars-themed bathroom. During summertime, the restaurant's terrace is great for people-watching.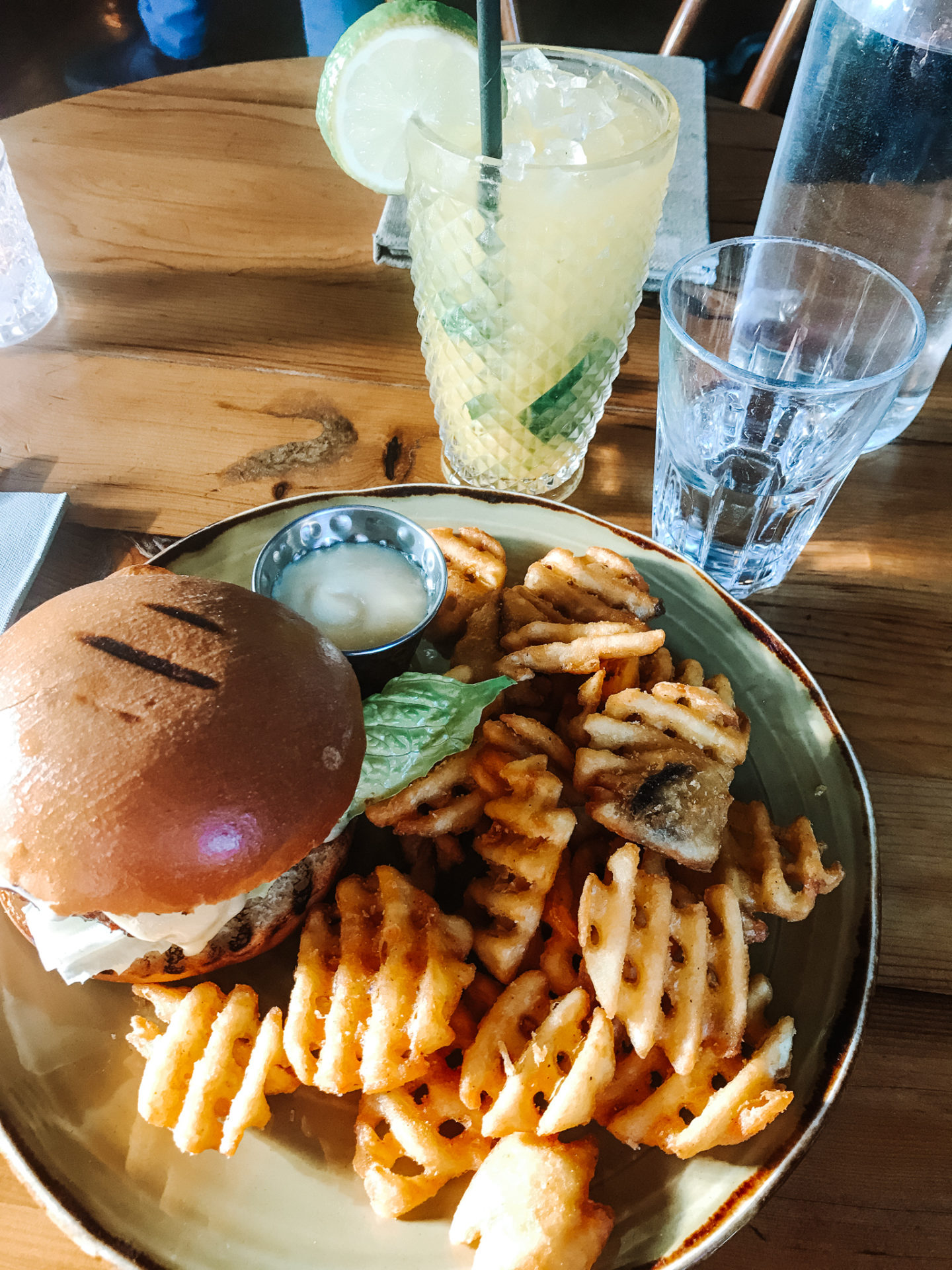 This is tasty Gastrofood as you know it. Perfect after a long day of sightseeing. I had the pub's burger and a cocktail. Sæta Svinið is very popular, so your best bet is to make a reservation in advance.
Sandholt is one of the oldest bakeries in Iceland, dating back to 1920. Today the fourth generation of Sandholt is making impeccable bread and pastries. The shop has a cafe area where you can enjoy your cake or have brunch. I had their shakshuka and a cup of tea. It is also a great place for stocking up on delicious supplies for your day trip out of Reykjavik.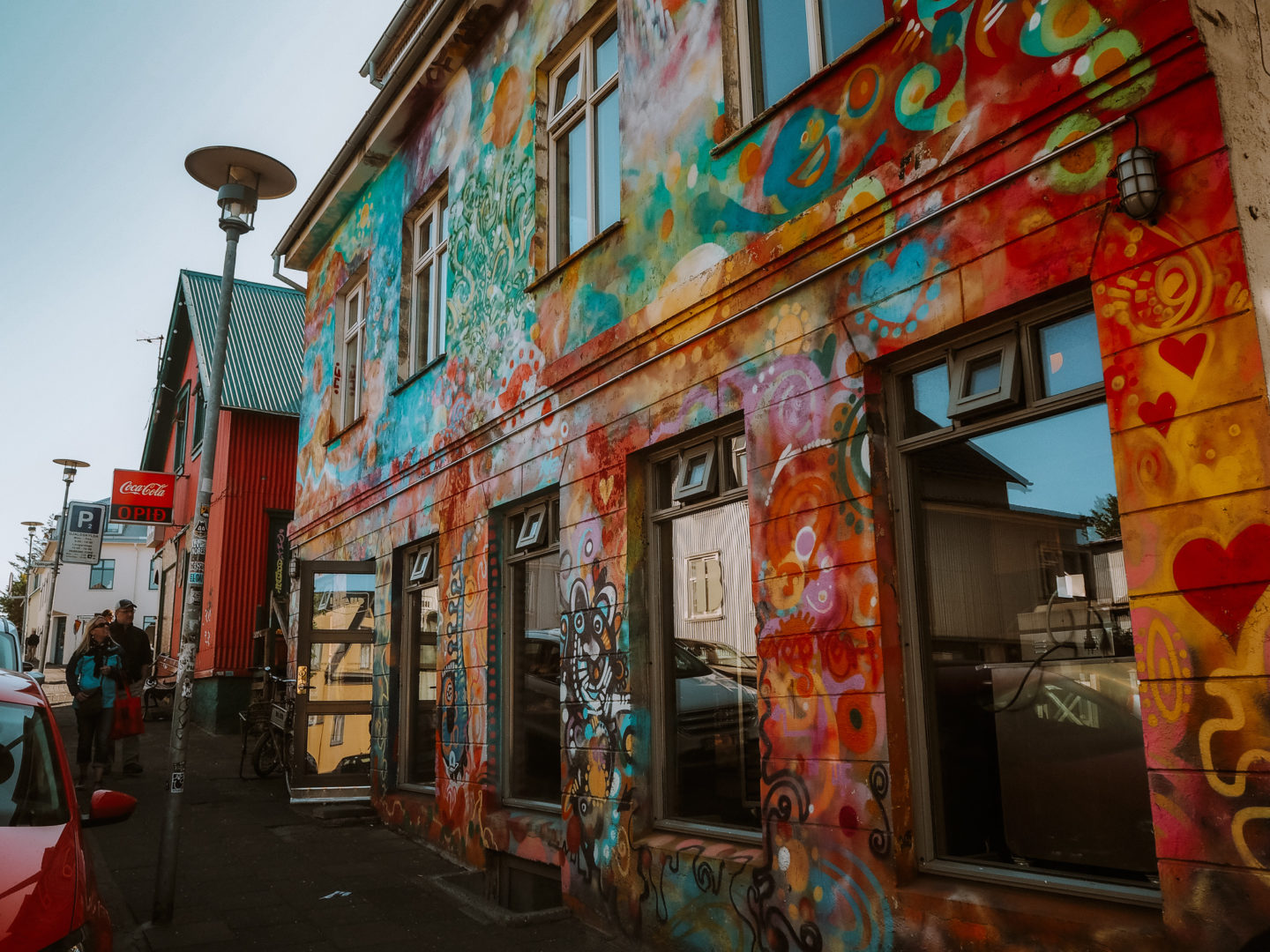 Brauð & Co has several bakeries around Reykjavik, and you quickly understand its popularity. The bread and cakes have a wonderful taste. So stock up on supplies here for your road trip!
Shop till you drop
If you're looking for tasteful souvenirs I found that these shops were good places to start.
This local clothing brand has a modern take on the traditional Icelandic knitwear. It is the perfect souvenir if you are looking for something more flattering than the usual Icelandic sweater.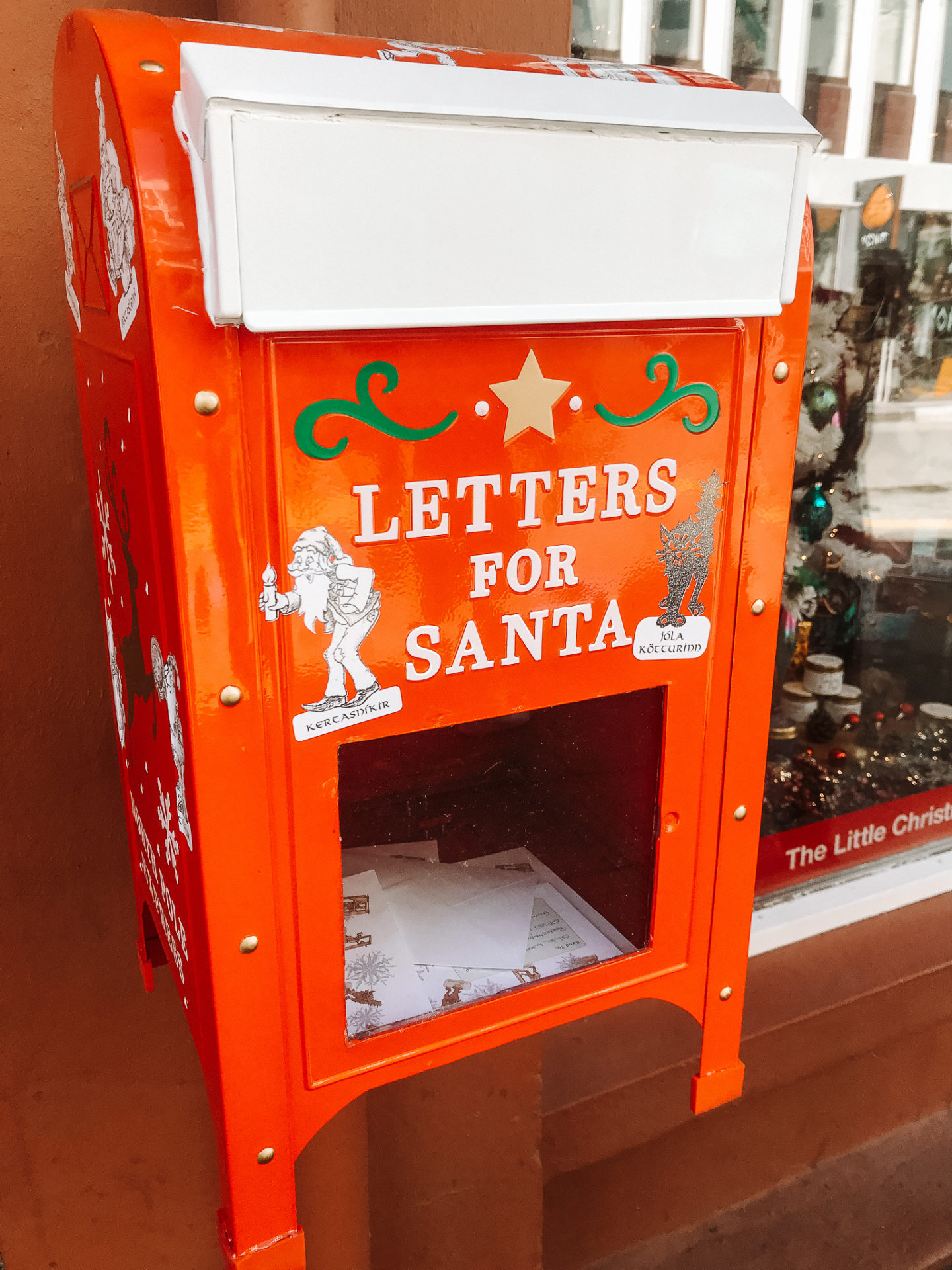 One thing I always buy on my trips is Christmas ornaments, so I was over the moon when I stumbled upon an entire store with Christmas ornaments. I bought an ornament with a puffin as a sweet reminder of the trip to Iceland.
If you want to limit your time for souvenir shopping, Nordic Store has it all. It has the traditional Icelandic Sweaters, Icelandic Yarn (so you can make your own knit), Jewelry with volcano pearls, and Icelandic licorice.
---
Danish Recap:
Med sit smukke vulkanlandskab er Island den perfekte destination, hvis man holder af eventyrlige rejser. Naturen er en attraktion i sig selv, og Island byder på et hav spændende oplevelser, men man bør ikke snyde sig selv for et besøg i den charmerende hovedstad, Reykjavik. Selvom den føles ret lille, er den stadig en hip og spændende kulturel perle, hvor du snildt kan bruge et par dage på sightseeing inden turen går videre på den famøse ringrute. Men Reykjavik kan også bruges som base til at opleve det bedste af Island på en forlænget weekend.
Transport
Medmindre du kommer sejlende til Island, så begynder din rejse ved lufthavnen Keflavik. Lufthavnen ligger et godt stykke fra Reykjavik by. Alt afhængig af dine videre rejseplaner, så kan du enten leje en bil i lufthavnen, eller tage en bus til Reykjavik centrum. Jeg tog en Gray Line bus fra lufthavnen til mit hotel. Prisen for en billet tur-retur er 5400 ISK. Bare fortæl chaufføren hvor dit hotel er, og så vil han sige, hvor du skal stå af.
Det er dog værd at skrive sig et par ting bag ørerne, når man lejer bil i Island. Vær OBS på, hvilken hastighed du må køre på de forskellige strækninger. Nogle steder er der fx nogle ensrettet broer, hvor man kun må køre 30 km/t. Til trods for Islands hastige popularitet blandt internationale turister, så har øens vejnet ikke fulgt med udviklingen. Mange veje er smalle, og selvom naturen er bjergtagende, så bør man holde sig fra at stoppe sporadisk op på vejene for at tage billeder. Det er voldsomt generende for både de andre bilister og de lokale.
Bo her
Island er som bekendt ikke en billig affære, så vil man holde sine omkostninger nede, er det værd at finde et budgetvenligt alternativ til overnatning. Jeg boede på KEX Hostel under mit besøg. Et hostel i en gammel kiksefabrik, hvor man har valgt at fremhæve stedets historie med en industriel indretning. Hotellet ligger i gåafstand fra de fleste attraktioner i byen. Perfekt til solorejsende eller backpackere.
Dette stilfulde lejlighedshotel ligger i en af Reykjaviks mest charmende gader. Ideelt for par, der gerne selv vil kunne kokkerere og stadig befinde sig i bykernen.
Dette hotel er det største i Reykjavik, og det er centralt placeret i Reykjaviks forretningskvarter. Hotellet er perfekt til familier eller grupper og indeholder desuden mødelokaler for virksomheder, der ønsker en anderledes og unik forretningsrejse.
Oplev
Med en befolkning på knap 130.000 mennesker, føles Reykjavik ikke som en storby. Der er ikke desto mindre et hav af ting at opleve her, så du kommer ikke til at kede dig.
Dette unikke arkitektoniske kendingsmærke er designet af den islandske arkitekt Guðjón Samuelsson. Fra dets 74 meter høje kirketårn kan man nyde en 360 graders udsigt over Reykjavik, så find kameraet frem! Det er gratis at besøge selve kirken, men vil man nyde udsigten i fugleperspektiv, så koster det 1000 ISK at besøge tårnet.
Dette smukke koncert- og operahus er designet af den danske arkitektgruppe, Henning Larsen Architects, i samarbejde med Olafur Eliasson, som de fleste nok kender som manden bag Aros' regnbue. En af guiderne på mine gruppeture fortalte mig, at Harpa står lidt som et symbol på finanskrisen for mange islændinge. Krisen i 2008 ramte Island hårdt, og byggeriet af Harpa måtte stilles i bero i 6 måneder. Harpa danner desuden rammen om Islands symfoniorkester og den islandske opera, så nyd en forestilling her under dit besøg.
Lokaliseret tæt på havnen, ses en skulptur af Jón Gunnar Àrnason. Den ligner et vikingeskib i rustfri stål. Perfekt til instagram.
Se på Street Art
Når man udforsker Reykjaviks hyggelige gader, så opdager man hurtigt, hvor meget street art, der er i bykernen. Se her, hvis du vil lave din egen lille graffititur.
Dagtur
Udforsk Det Sydlige Island
Udforsk Snæfellness
Den gyldne cirkel
Et madøres drøm
Trods dens størrelse så er Reykjavik et madøres drøm. Der er så mange lækre og gode restauranter, der serverer mad af friske og lokale ingredienser. Jeg havde dog kun tid til at besøge en håndfuld restauranter under mit ophold, men jeg var yderst tilfreds.
Denne lille restaurant skulle efter sigende have den bedste hummersuppe i Reykjavik, så den måtte jeg naturligvis prøve. Jeg ved ikke, om det nødvendigvis er det bedste hummersuppe, jeg har smagt, men den var i hvert fald meget velsmagende, og ovenikøbet budgetvenlig. Jeg fik mig også en Egils appelsin soda, der mest af alt minder om en dansk Squash sodavand, og nød hele herligheden med udsigt over havnen.
Hvis du er på udkig efter et lækkert og sundt måltid, så er Restaurant Gló et must. Restauranten har fokus på friske ingredienser fra de lokale bønder og har en simpelt og jordnær atmosfære, perfekt som frokostspot. Jeg nød deres Thai Bowl, men restauranten har også et hav af wraps, salater, juice m.m.
Enhver, der kender mig ved, at jeg ELSKER is, så da jeg faldt over den lille isbutik, blev jeg nødt til at smage deres gelato. Joylato bruger sundere alternativer til at forsøde deres is såsom stevia, dadler og kokossukker i stedet for raffineret sukker. Så der er ingen undskyldning for ikke at spise en ekstra kugle is. Udover de gængse isvarianter har de også et mere usædvanligt udvalg. Jeg nød deres varianter "popcorn/caramel" og "guava/blodappelsin" til 900 ISK for 2 kugler. Joylatos farvestrålende og hippieinspirerede indretning gør desuden stedet meget insta-værdigt.
Denne cafe er storartet, hvis du trænger til lidt eftermiddagskaffe. Jeg må dog tilstå, at hovedårsagen til, at jeg anbefaler dig at slå et smut forbi, er deres unikke toilet med Starwars-tema. I sommermånederne er cafeens terrasse også et fantastisk sted at sidde og kigge på mennesker.
Sæta Svinið serverer god gastromad, som du kender det. Perfekt efter en lang dags sightseeing på øen. Jeg fik deres burger og en af deres cocktails. Stedet er voldsomt populært, så lav en reservation på forhånd.
Sandholdt er en af de ældste bagerier i Island, grundlagt i 1920. I dag er det den fjerde generation af familien Sandholt, der laver de udsøgte brød og kager. Butikken har desuden et cafeområde, hvor du kan nyde kage eller få brunch. Jeg fik deres shakshuka og en kop te. Stedet er genialt, hvis man skal købe proviant til en dagstur ud af Reykjavik.
Bagerikæden Brauð & Co har adskillige filialer rundt i Reykjavik, og man forstår hurtigt dens popularitet. Deres brød og kager er virkelig gode, så køb lidt mundgodt til køreturen her.
Sving dankortet
Disse butikker er et godt bud, hvis du er på udkig efter lidt smagfulde souvenirer til kufferten.
Dette lokale tøjmærke har en moderne tilgang til traditionel islandsk strik og er den perfekte souvenir, hvis du er på udkig efter noget mere flatterende end den traditionelle islandske sweater.
En ting, jeg altid køber på mine rejser, er julepynt, så jeg var fyr og flamme, da jeg faldt over en hel butik fyldt med julepynt. Som et fint minde fra min tur, købte jeg en stykke julepynt med en lunte.
Vil du hellere bruge tid på at udforske byen i stedet for at shoppe, så slå et smut forbi Nordic Store, der har et stort udvalg af smagfulde souvenirer. Du finder både de traditionelle islandske sweatre, islandsk garn (så kan du strikke din egen), smykker med perler af lavasten og islandsk lakrids.