The youth series SKAM (meaning shame in Norwegian) has become world-famous during the last couple of years, and for good reason, the series does an amazing job of portraying the struggles and issues of a teenager's life. The serie is about a group of girls that are students of Hartvig Nissen's Highschool and each season there is a new main character. They're all preparing for the so-called "Russ tiden" (a Norwegian tradition where you party for a month, the year of your graduation from Highschool).
Here is a small recap of the series if you want to be updated:
Season 1
In the first season, we follow the girl Eva, who has lost all her friends from primary school because she started dating her best friend 's boyfriend, Jonas. Luckily she finds a new circle of friends: Vilde, Noora, Chris, and Sana.
Season 2
In the second season, we follow the girl Noora, who falls in love with the guy her friend Vilde is interested in. She is also afraid to fall in love because her previous relationship left her with some deep scars.
Season 3
In the third season we actually don't follow any of the girls, but Eva's friend Isak, who struggles with accepting his sexual orientation coming from a very Christian background.
Season 4
In the fourth and last season, the serie follows the life of the Muslim girl Sana, who is struggling to find a balance between her parent's expectations and being in a group with all Norwegian girls, who are drinking and having sex before marriage.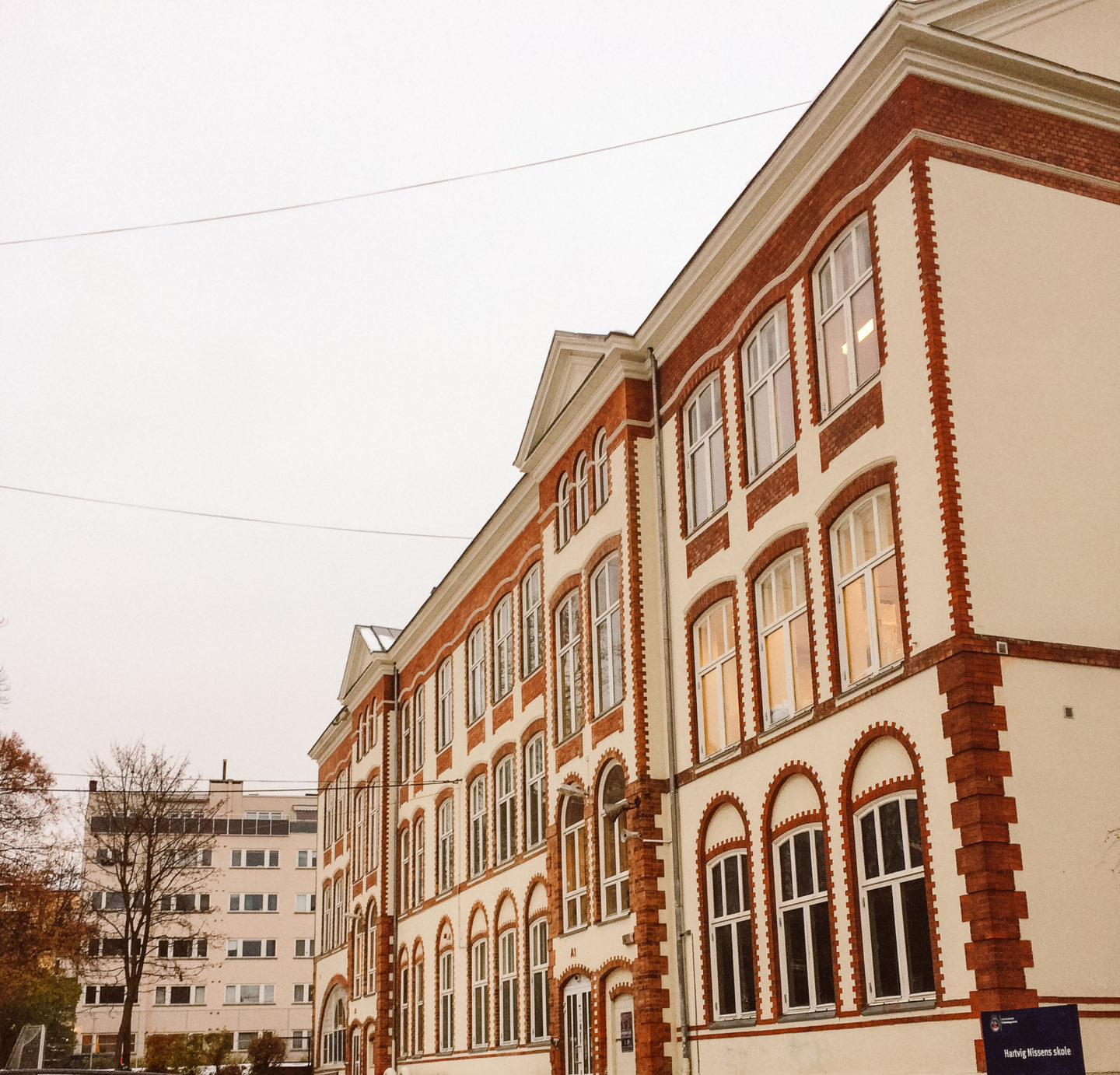 Locations of the show:
Kaffebrenneriet
The Coffee Bar where Isak and Evan are on a date in season 3. Kaffebrenneriet is a coffee bar chain and the one Isak and Evan are visiting is the one on Skovveien . Fun fact, Henrik Holm who plays Evan actually works here in real life.
Hartvig Nissens Highschool
Niels Juels gate 56
Frogner, Oslo
The high school where the series takes place. Fun fact, Isak played by Tarjei Sandvik Moe and Magnus played by David Sjøholt actually go to high school here.
Bislett Kebab
Hegdehaugsveien 2
This is kebab place where Isak and Jonas go after school in season 3, episode 6.
The Collective (Where Noora, Eskild, Linn & Isak lives)
Deichmans Gate 5, City Centre.
This is the apartment where some of the main characters live together.
St. Hanshaugen Park
This park is where Noora is telling Vilde that she loves William in season 2, and it is also where Noora and William meet up after he has been in a fight.
Sonja Heines Plass 3
This is the hotel where Isak and Evan are spending a very chaotic date in season 3
Ekeberg
This is where Noora and William have their first date in season 2. It is a great viewpoint and a great place to take pictures of Oslo.
Beierbrua
The bridge where Noora and William kiss for the first time in season 2.
Forest & Brown
Niels Juels gate 31
This is the bar where Noora and William 's brother meet up and she confronted him with his actions in season 2.
Sagene Kirke
This is the church where Isak attends a Christmas concert with his parents. Norwegian singer Nils Bech sings his Norwegian version of the beautiful Christmas song "O Holy Night".
Syng
Nedre gate 7
This is the karaoke bar where the group go in season 4 and sing John Lennon's "Imagine".
Sørenga Sjøbad
Where Sana and Yousef have their first date in season 4. Do like Sana and Yousef and have a picnic at the harbor front.
If you want to see and learn more about SKAM explore it yourself by using Visitoslo's map .
---
Danish Recap
Kødder du? Kroppen din trenger potet, Serr, Føkk boy og Russabus er vendinger, der pludselig er blevet en del af danske unges sprogbrug. Siden SKAM-feberen for alvor ramte Danmark i 2016, er vi kommet tættere på vores norske naboer, og Norge er ikke længere noget unge blot forbinder med skiferier. I stedet har vi fået øjnene op for, at vi nok har mere til fælles med norske unge end amerikanske unge, og det derfor måske er også nemmere at identificere sig med karaktererne i den hypede norske ungdomsserie SKAM. Serien gør et fortræffeligt godt job med at beskrive de kriser og problematikker, man står overfor som teenager. Vi følger en gruppe unge piger, der går på Hartvig Nissens Gymnasium i Oslo, og hver sæson har serien en ny hovedkarakter. Pigerne gør sig klar til den såkaldte "Russ tiden" (den norske udgave af studentertiden, der modsat den danske inkluderer fest og farve hele måneden op til dimensionen).
Har du ikke set serien, så kommer her et lille resume:
Sæson 1
I den første sæson følger vi pigen Eva, der har mistet de fleste af sine folkeskoleveninder, fordi hun begyndte at date sin bedste venindes kæreste, Jonas. Heldigvis finder hun en ny vennekreds i pigerne: Vilde, Noora, Chris og Sana.
Sæson 2
I anden sæson følger vi pigen Noora, der er blevet forelsket i den fyr, hendes veninde Vilde er vild med. Hun er bange for at blive forelsket, da hendes tidligere forhold har efterladt hende med ar på sjælen.
Sæson 3
I tredje sæson følger vi faktisk ingen af pigerne, men derimod Evas ven Isak, der kæmper med sin seksualitet, da han kommer fra en meget kristen baggrund.
Sæson 4
I fjerde og sidste sæson følger vi den muslimske pige Sana, der kæmper med at finde en balance imellem hendes forældres opdragelse og hendes venskab til de norske piger, der alle drikker og har sex før ægteskabet.
Stederne fra serien:
Den kaffebar, hvor Isak og Evan mødes på en date i sæson 3. Kaffebrenneriet er en kaffekæde, og den, Isak og Evan besøger, er den på Skovveien. Faktisk arbejder Henrik Holm, der spiller Evan i serien, i virkeligheden på Kaffebrenneriet off-screen.
Hartvig Nissens Gymnasium
Niels Juels gate 56
Frogner, Oslo
Gymnasiet, hvor serien foregår, men det er også her, at Tarjei Sandvik Moe, der spiller Isak, og David Sjøholt, der spiller Magnus, går i skole til dagligt.
Hegdehaugsveien 2
Kebabstedet, hvor Isak og Jonas går hen efter skole i sæson 3, episode 6.
Kollektivet (Hvor Noora, Eskild, Linn & Isak bor)
Deichmans Gate 5, City Centre.
Lejligheden, hvor nogen af hovedpersonerne bor sammen.
St. Hanshaugen Park
Det er parken, hvor Noora endelig fortæller Vilde, at hun er forelsket i William i sæson 2, og det er også her, hvor Noora og William mødes efter, han har været i slåskamp mod Penetrators ærkerivaler.
Sonja Henies plass 3
Det er hotellet, hvor Isak og Evan tilbringer en temmelig kaotisk date i sæson 3. Det er også her, at Julie Andem kommer med en indirekte tak til de danske fans med scenen med Evan og en dansk receptionist.
Ekeberg
Det er her, Noora og William har deres første akavede kakaodate i sæson 2. Stedet er et godt udsigtspunkt og er velegnet til tage billeder af Oslo by fra.
Beierbrua
Broen, hvor Noora og William kysser for første gang i sæson 2.
Niels Juels gate 31
Baren, hvor Noora konfronterer Williams storebror med hans upassende adfærd i sæson 2.
Sagene Kirke
Kirken, hvor Isak er til julekoncert med sine forældre. Det er også her, den norske sanger Nils Bech synger en norske version af den smukke julesang: "O Holy Night".
Nedre gate 7
Karaokebaren, hvor gruppen mødes i sæson 4 og synger John Lennons "Imagine".
Hvor Sana og Yousef har deres først date i sæson 4. Gør ligesom Sana og Yousef, og nyd en picnic her ved havnefronten.
Hvis du vil besøge stederne på egen hånd så at bruge VisitOslos kort