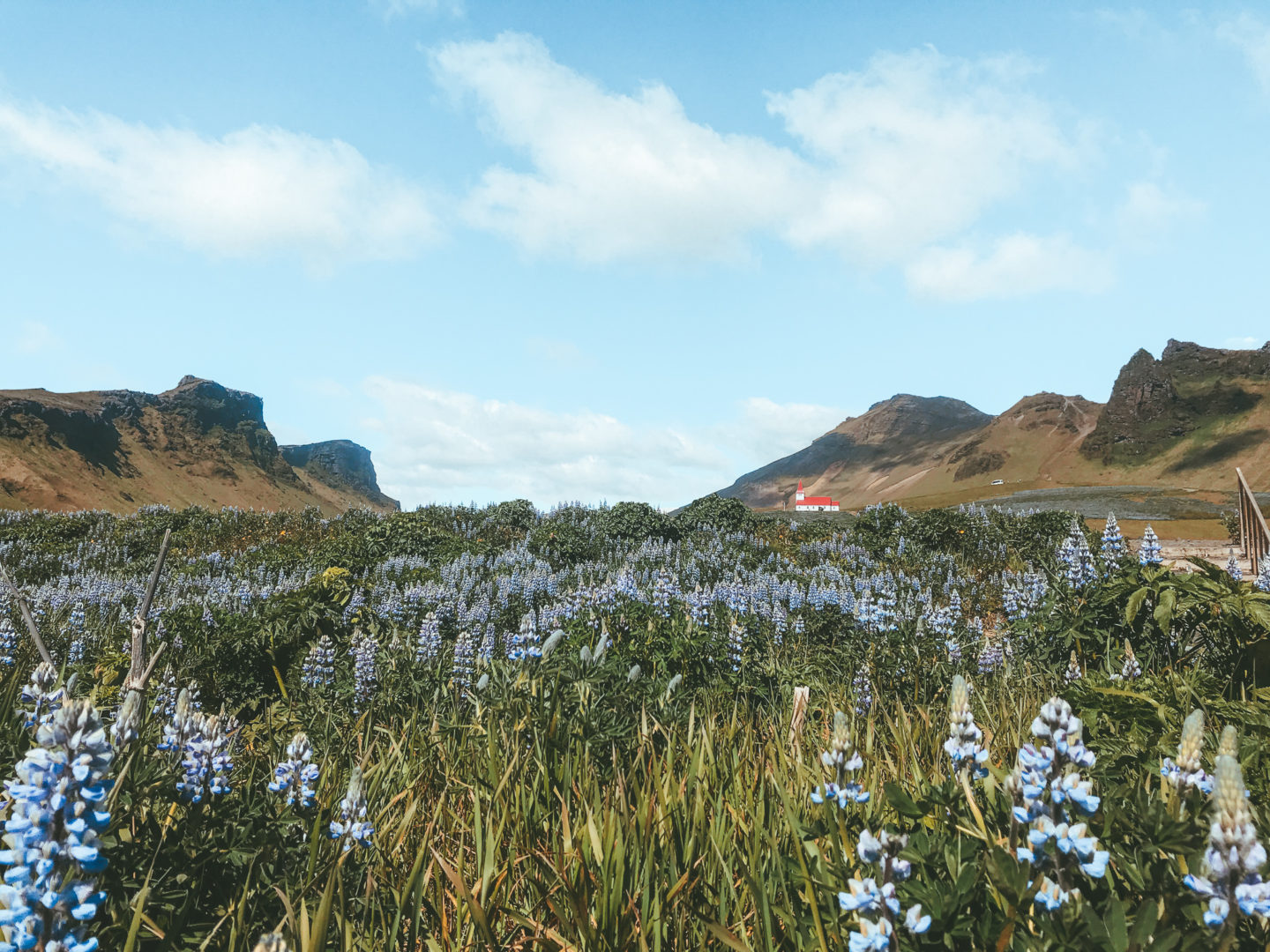 So you've visited Reykjavik, completed the Golden Circle, and visited The Blue Lagoon, so what is next? Well if you have one more extra day to spare, I am here to tell you that you have to visit the southern part of Iceland. I joined a group day trip with Kexland and got to see the major sites on the southern coast of Iceland. If you are renting a car you can easily do this by yourself too. I thought it was too expensive to rent a car on my own and wasn't that keen on driving abroad for the first time, so I opted for a group tour instead.
Skógafoss Waterfall
Skogafoss waterfall is not as impressive as Gullfoss, but it should still be on your bucket list. Not only is it much taller than Gullfoss with its 60 meters, but also it was used as a film set for Game of Thrones. Its the frozen waterfall that John Snow and Daenerys fly to when John rides a dragon for the first time).
If you want to watch the waterfall from a different view, head the 400 steps up to the top of the hill. Again remember something to protect your camera or phone from the splashes of the waterfall.
Seljalandsfoss Waterfall
Another awesome waterfall to add to your bucket list is Seljalandsfoss. Which was one of my favorites because you can walk behind it. You walk almost like a loop behind the waterfall and into the natural cave behind the waterfall. It was thrilling and felt like a unique experience, and I felt a little bit like Tintin in Tintin and the Prisoners of the Sun. But be careful that you don't trip, and bring something to protect your camera and phone.
Sólheimajökull Glacier
I was keen to see a glacier on my visit to Iceland. Even though it may not be as impressive and as Jökulsárlon Glacier Lagoon (which is on top of my list next time I am in Iceland), I was really glad to see Sólheimajökull glacier. You have to hike a bit to get to from the parking lot, but it is stunning. I didn't have enough time but if you going at your own pace, you can do a glacier trek on top. Check it out here.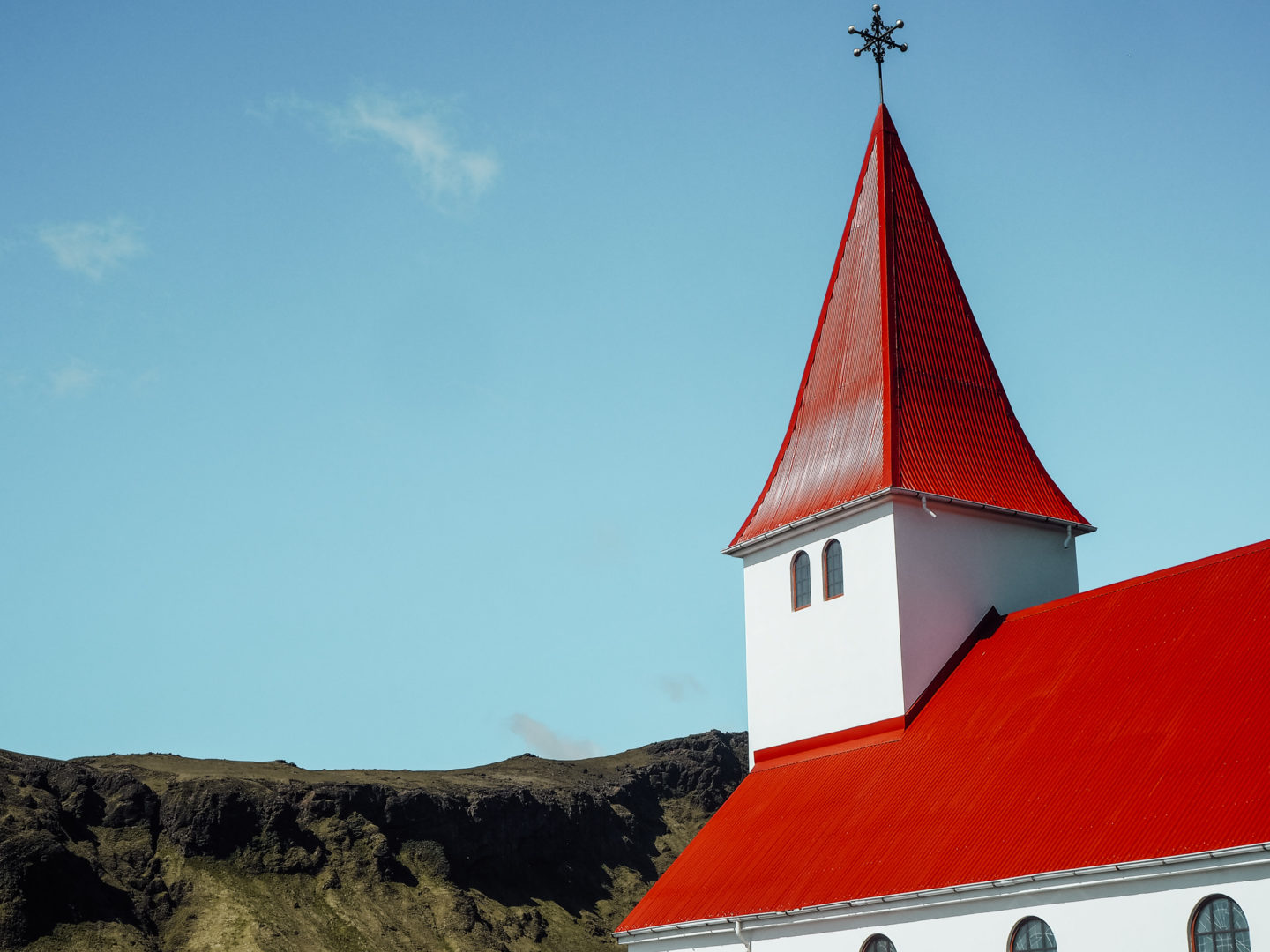 Vik
We also had time to visit the small town Vik, where we could get some lunch, visit the little icon church with its red roof, and visit Vik beach. I was more intrigued by the beautiful lupins that surrounded the town. And obviously, I had to get the token iconic blogger photo.
Reynisfjara or The Black Sand Beach
We also visited Reynisfjara or the Black Sand Beach. The landscape is spectacular and is an art of nature. The natural rock formations resemble the stones from Giant's Causeway in Northern Ireland. You might recognize the pitch-black sandstones from Game of Thrones as the beach on Dragonstone.
---
Danish recap :
Så du har krydset Rekjavik, Den Gyldne Cirkel og Den Blå Lagune af listen, hvad nu? Hvis du bare har en enkelt dag mere i Island, så dediker den til storslående naturoplevelser, og besøg det sydlige Island. Jeg deltog i en gruppetur med Kexland, og fik derved krydset mange af de store attraktioner af min bucket liste. Hvis du lejer en bil kan du nemt besøge stederne på egen hånd. Jeg syntes, at det var en kende for dyrt at leje bil som solorejsende, og jeg havde ærlig talt ikke helt mod på at køre i udlandet for første gang, så jeg tog på gruppeturen i stedet.
Skógafoss vandfald
Skogafoss vandfald er måske ikke så imponerende som Gullfoss, men du bør stadig unde dig selv et besøg. Skogafoss er med sine 60 meter ikke bare højere end Gullfoss, det har også været brugt som kulisse i Tv-serien Game of Thrones (det er vandfaldet, som John Snow og Daenerys flyver til, da John flyver en drage for første gang).
Hvis du vil opleve vandfaldet fra en anden vinkel, så gå op ad de 400 trappetrin til toppen af vandfaldet. Husk endnu engang at beskytte dit kamera eller telefon fra fugten fra vandfaldet med et vandtæt cover.
Seljalandsfoss vandfald
Seljalandsfoss-vandfaldet er endnu et vandfald at tilføje til din bucketliste. Det var en af mine favoritter, fordi du kan gå bag det. Hvor fedt er det ikke lige?! Du går nærmest i en cirkel bag vandfaldet og ind i en lille naturlig grotte, det var en både fed og unikoplevelse, og for en stund følte mig lidt som Tintin i Tintin og Soltemplet. Gå forsigtigt så du ikke falder, og husk at medbringe et etui, der kan beskytte dit kamera eller din telefon fra vand.
Sólheimajökull Glacier
Jeg var ret ivrig efter at se en glacier på min Islandtur, og selvom om Sólheimajökull ikke er nær så imponerende som eksempelvis Jökulsárlon Glacier Lagoon (som står øverst på min listen på næste eventyr i Island), så var jeg alligevel glad for, at se glacieren. Du skal gå et stykke fra parkeringspladsen til du kommer til glacierens tunge, men udsigten er storslående. Hvis du har tid nok, det havde jeg beklageligvis ikke, så kan trekke på ovenpå glacieren. Se mere her.
Vik
Vi havde også tid til et lille smut til den lille by Vik. Her holdt vi ind for at få lidt frokost, besøge den lille ikoniske kirke med den knaldrøde tag, og et smut på Vik-strand. Jeg blev dog mest draget af de smukke lupiner, der omkransede byen som et blomsterende tæppe, og naturligvis måtte jeg også forevige det med et obligatorisk ikoniske bloggerbillede.
Reynisfjara eller The Black Sand Beach
Vi besøgte også Reynisfjara eller Black Sand Beach. Dette spektakulære landskab er dragende og og magisk. Det viser virkelig hvordan naturen kan kunst i sig selv. Den naturlige klipperformationer minder om stenlandskabet fra Giant's Causeway i Nordirland. Du genkender muligvis det kulsorte stenstrand fra tv-serien Game of Thrones, hvor stranden danner kulisse til stranden på øen Dragonstone.