To be honest I don't really indulge myself in the more sophisticated pleasures. I don't like cheese (only melted cheese on pizzas or nachos), red wine gives me headaches, and oysters are just not my cup of tea. I want to learn to cultivate my tastebuds and wine knowledge more, and since I was visiting South Africa, it would be a shame not to taste some of the local wines. I, therefore, signed up for a wine tour in the beautiful wine area of Stellanbosch.
I traveled with Out There Tours and the charming guide Julian, who owns the company, taught us about the art of wine tasting. Our first stop was at the wine estate Altydgedacht. I only drink white wine and occasionally rosé wine or champagne, and luckily Julian made sure I got different white wines while the others tasted various red wines. Here is what I tasted at Altydgedacht:
MCC – South African champagne. As a winemaker, you are not allowed to call it champagne unless it is made in the province Champagne in France. Julian explained how the bubbles are created; it happens through two fermentations. You remove the skin from the grapes at the first fermentation and add more yeast during the second fermentation, and that is what creates the bubbles.

Sauvignon Blanc – It has a fresh taste. The winemakers like to add their own twist to the wine; this wine for instance has a taste of fresh berries.

Gewürtstraminer – A German wine.

Rose Pinotage – A wine that is unique for South Africa. It is made from red grapes, but the skin is kept on the grapes for 3-4 hours before peeling it off, that is why it has a light pink color. It has the qualities of white wine and the color nuances of red wine.

Tygerberg Chatelaine – A mix of Muscat, Gewürtstraminer and Riesling.
The next wine estate we visited on our tour was the beautiful Hartenberg Wine Estate. This was my favorite place and you could really tell that the wine waiter was really passionate about wine, and possessed great knowledge about the specific wines. Here we got:
Riesling 2011 – Good for Japanese food and chicken. Only 13 farms in South Africa make this kind of wine.

Sauvignon Blanc 2013 – Also referred to as "Summer in a Glass". It has flavors of litchi and guava. It is good for cheese and fish for instance fish soup.

Chardonnay 2012 – It has a smell of citrus. Great for shellfish, risotto or pasta.

The Eleanor Chardonnay 2011 – One of the most popular wines from Hartenberg, and my absolute favorite.

The Occasional Riesling 2011 – Good for spicy food.

Riesling Noble Late Harvest – Quite sweet and therefore it is great for desserts.
Our next stop was Delheim Wine Farm, where we were shown around the property on a little tour, where we were enlightened in the different stages of winemaking. We tasted:
Pinotage Rosé – It only keeps the skin on for two hours, that is why it has such a beautiful light pink color.

Chardonnay

Sauvignon Blanc (Heerenwijn) – It has a fruity flavor.

Chenin Blanc – It is kept in a cement tank.
It was a perfect day, but by the end of the day, I was a little fed up with wine after tasting 15 different wines. I would definitely recommend Out There Tours to anyone and genuinely felt like I gained some knowledge about wine.
How to taste wine:
Try to smell the wine first. You stir the wine around the glass to open up the wine. By doing that, you add oxygen to the wine and thereby enhance the flavors and the smell.
Take a sip of the wine without swallowing it, and try to run it around in your mouth, then breathe in some air (again without swallowing anything) and then swallow (or spit it out). That is how you get the most optimal flavor of the wine.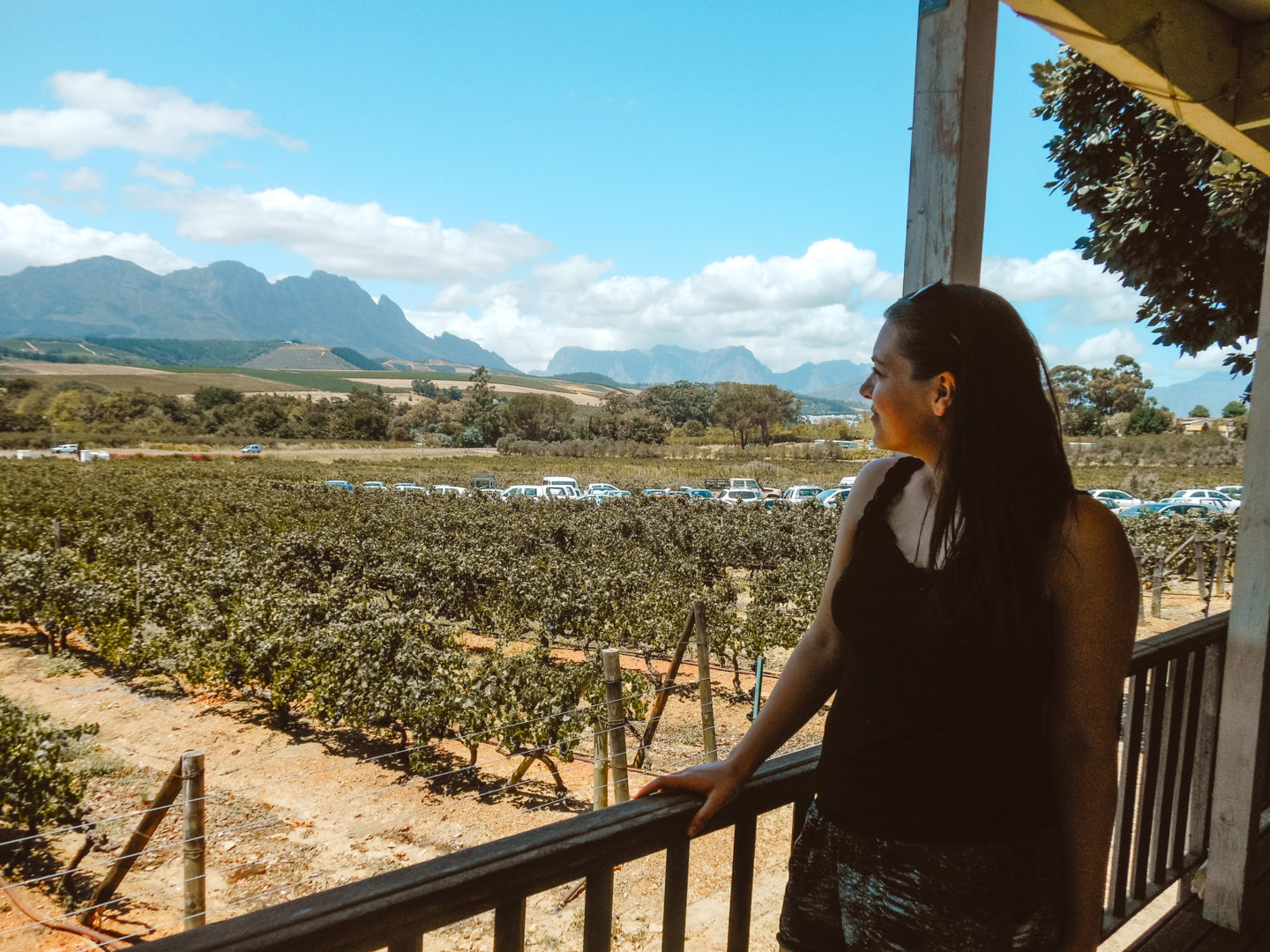 ---
Danish recap:
Jeg må ærligt indrømme, at jeg ikke har de mest raffineret smagsløg. Jeg spiser ikke gode oste (kun smeltet ost på pizzaer eller nachos), garvesyren i rødvin giver mig hovedpine, og østers er bare ikke min kop te. Jeg ville ønske, at jeg kunne åbne noget mere op for min kulinariske horisont, derfor meldte jeg mig til vinsmagning i det smukke Stellenbosch område.
Jeg tog på vinsmagning med Out There Tours, hvor den charmerende guide, Julian, der også ejer firmaet, lærte os en masse om vinsmagning. Vores første stop var vingården Altydgedacht. Jeg drikker kun hvidvin, rosévin eller champagne. Men heldigvis sørgede Julian for, at jeg kunne prøvesmage en række forskellige hvidvine, mens de andre smagte rødvine. Her er hvad jeg smagte på Altydgedacht:
MCC – Sydafrikansk champagne. Man må ikke kalde et produkt for champagne, hvis det ikke er produceret I Champagneprovinsen i Frankrig. Julian forklarede os hvordan champagneboblerne bliver dannet. Det sker gennem to fermenteringer; ved den første fermentering fjernes skinnet fra druen, og ved den anden fermentering tilføjes mere gær, og det er det, der skaber boblerne i champagne.
Sauvignon Blanc – Har en frisk smag. Vinfabrikanterne ynder at sætte deres eget præg på vinen; denne har eksempelvis en eftersmag af friske bær.
Gewürtstraminer – En tysk vin.
Rose Pinotage – En særlig vintype, der er unik for Sydafrika. Den bliver lavet på røde druer, men skinnet bliver bevares på druerne i 3-4 timer inden det skrælles af. Det er derfor den har en fin lyserød farve. Den har kvaliteterne fra hvidvin og de rødlige nuancer fra en rødvin.
Tygerberg Chatelaine – En blanding af Muscat, Gewürtstraminer og Riesling.
Den næste vingård vi passerede på vores færd, var det smukke Hartenberg Wine Estate. Det var mit absolutte yndlingssted, og det var tydeligt at sommelieren virkelig brændte for sit fag, og havde en enorm viden om de forskellige vine han serverede for os. Her blev vi bydt på:
Riesling 2011 –Velegnet til det japanske køkken og kylling. Denne type riesling bliver kun fremstillet på 13 vingårde I Sydafrika
Sauvignon Blanc 2013 – Har fået det fine tilnavn "Sommer i et glas". Den har en bismag af litchi og guava. Den er god til ost og fisk fx fiskesuppe.
Chardonnay 2012 – Den har en skøn citrusduft. Rigtig god til skaldyr, risotto eller pasta.
The Eleanor Chardonnay 2011 – En af de mest populære vine fra Hartenberg, og min yndlingsvin på hele vinsmagningsturen.
The Occasional Riesling 2011 – Velegnet til krydret mad.
Riesling Noble Late Harvest – Temmelig sød og passer derfor rigtig godt til desserter.
Næste stop på vinsmagningsturen var Delheim Wine Farm. Som en del af vinsmagningen indgik også en rundvisning i produktionshallerne, og en af medarbejderne fortalte os, hvordan de forskellige vine vi drak blev produceret. Vi smagte:
Pinotage Rosé – Skinnet bevares på i to timer, og derfor har vinen en smuk lys rosa farve.
Chardonnay
Sauvignon Blanc (Heerenwijn) – Har en frugtagtig smag.
Chenin Blanc – Bliver opbevaret i en cement tank.
Det var en perfekt dag, men jeg må ærligt talt indrømme, at jeg efter at have indtaget 15 forskellige vine, var lidt træt af hvidvin. Samtidig gav prøvesmagningen af de mange hvidvine mig også et godt indblik i, hvor stor forskel, der kan være på hvidvin. Vinsmagning med Out There Tours kan bestemt anbefales, især hvis du som jeg ikke har den store viden om vin.
Hvordan smager man på vinen?
Prøv at duft til vinen først. Kør vinen i glasset for at åbne vinen op. Derved iltes vinen, og det fremhæver nogle af de smagsnuancer vinen har og er desuden med til at forstærke vinens aroma.
Tag en tår af vinen og kør vinen rundt i munden uden at synke. Sug luft ind i munden (fortsat uden at synke vinen), og synk (eller spyt ud hvis der er en spytspand). Det er sådan man allerbedst kan smage de forskellige nuancer en vin indeholder.